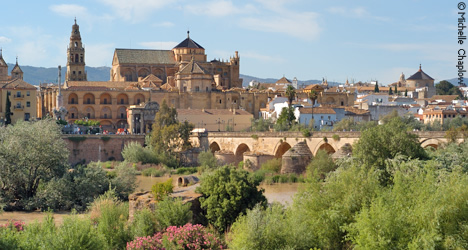 Cordoba City - Five Fascinating Facts
Cordoba is best known as being home to one of Andalucia's three great monuments: the Mezquita, the other two being Seville's Alcazar and Granada's Alhambra. Like the other two, the city embodies the region's rich cultural and religious history: the Mezquita - which dates from Cordoba's zenith, as capital of Al-Andalus and the largest and most important city in Western Europe, with 500,000 inhabitants - is, in fact, a mosque with a cathedral inside it. During its hugely prosperous and successful Moorish Caliphate era (766-1031), Cordoba was a great cultural, political, financial and literary centre, with the largest library in the world.
The city also has a Jewish quarter - the synagogue is one of only three surviving pre-Reconquest ones in Spain. After the Mezquita, Cordoba is probably most famous for its magnificent flower-filled patios, with their annual open-doors-festival-contest in May. Preceded by the Cruces de Mayo competition, and with the Feria at the end of the same month, May is the best month to visit Cordoba.
Destinations