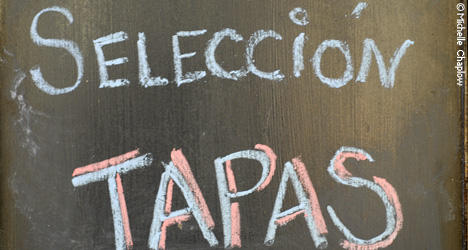 Here are some facts that you may or may not know about the city, whether you´re visiting Seville for the first time, you´re a seasoned expert, or you live here. Films, fruit, sport, history, religion and politics - tasty titbits for everyone to savour
5) ANYONE FOR TAPAS?
When you visit Seville, you will undoubtedly go out for tapas. These small, tasty dishes, now found all over the world, originated in Sevilla. As with most traditional and much-loved activities, theories abound on the word´s origin- some say it started off as a slice of ham or bread, used to cover a wine glass as a lid (tapa), to stop dust or flies getting in; others, that since people often drink standing up, they had to put their plates on top of their glasses Whatever the truth, tapas are a way of life here - you arrive at a tapas bar, order some dishes to share, eat, drink, talk, and then go on to the next place. The activity even has its own vocabulary: tapear is to go out for tapas, tapeo is the activity itself, while a tapeador is someone who eats tapas. Typical local tapas in Seville include spinach and chickpeas, baby squid and Iberian ham.
6) SEVILLE´S SIGN OF THE TIMES
Visitors to Seville will notice a symbol on many signs around the city, from taxis and buses to sewer covers, consisting of the letters ´NO8DO´. This is the city´s logo, and legend says that it originates from the 13th-century coat of arms awarded to Sevilla by King Alfonso X the Wise. He bestowed it in gratitude for Seville´s support in his battles against his son, Sancho IV of Castile, who wanted to usurp his father´s throne during the Reconquest. Between the ´NO and ´DO´ is an 8-shaped bundle of wool (madeja in Spanish). Add the three together, speaking in Seville´s fast, elliptical accent and you have ´no-madeja-do´, more correctly, ´no me ha dejado´ which means ´it (the city) has not abandoned me´. The motto was his reward to the people of Seville for their loyalty.
Part IV - Fascinating Fact 7 and 8