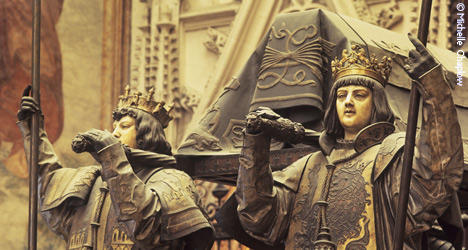 Here are some facts that you may or may not know about the city, whether you´re visiting Seville for the first time, you´re a seasoned expert, or you live here. Films, food, sport, history, religion and politics - tasty titbits for everyone to savour
7) THE CATHEDRAL-COLUMBUS CONTROVERSY
One of the most controversial of Seville´s many claims is that Cristobal Colón (Christopher Columbus) is buried here, in Sevilla´s mighty Gothic cathedral, variously described as either the third, second or biggest cathedral in the world (the other contenders being St Peter´s in Rome, and St Paul´s in London), depending on who you talk to.
The story goes that after Columbus died in 1506, his remains were buried first in Valladolid, then taken to Monasterio La Cartuja in Sevilla; thence to the Dominican Republic, and finally Havana, from where they were returned after Cuban independence in 1898. But others claim that the true remains are still in the Dominican Republic, and that his son Diego´s remains were mistakenly taken back to Sevilla instead of Christopher´s. In 2006 DNA tests verified that those in Sevilla cathedral were indeed Columbus senior´s, although who´s to say that other remains are not elsewhere?
8) THE SIX BRIDGES OF SEVILLE´S EXPO
The 1992 Expo put Seville on the map. Andalucia had become poor and backward during the Franco era, and an injection of cash for new roads, a high-speed rail (AVE) linking Seville to Madrid and a new airport transformed the city. Chief among the new plans were road, rail and foot bridges over the river Guadalquivir, linking the main part of Sevilla to the largely undeveloped island of La Cartuja, where the six-month Expo was to be based. No less than five bridges were built in Seville, the most famous of which are the vast Quinto Centenario, an infamous accident hotspot, and the beautiful, soaring Barqueta and Alamillo bridges. Designed by world-famous architect Santiago Calatrava, the spectacular 250-metre high Alamillo has a single arm to bear its entire weight. Calatrava´s original idea, a pair of bridges on either side of La Cartuja island, was vetoed by Seville officials on financial grounds. The Alamillo is probably Seville´s most striking and successful legacy from Expo 92.
Part V - Fascinating Fact 9 and 10