The Tapa Experience
by Janet Mendel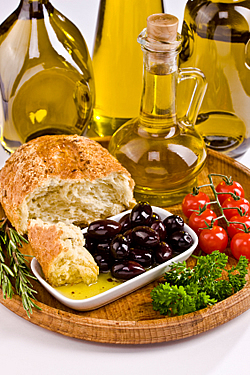 Bread & olive oil
Step out of the Andalusian sunshine. Just follow the crowds through this little doorway, into the cool interior of a typical bodega or wine bar. Multi-coloured tiles line the walls while clay-tiled floors shine with the patina of years of footsteps. Barrels of wine are stacked behind the bar. From wooden beams hang whole hams and links of sausages, ropes of garlic and peppers.
What really draws you in are the aromas wafting from the kitchen, as plate after plate of food is placed on the bar.
These plates of food are tapas, the best introduction to authentic Andalusian food. Tapas are small portions of foods, both hot and cold, served in bars, bodegas and tascas to accompany a copa of fino-- dry Spanish Sherry--or draught beer. You can enjoy tapas in most bars before the lunch hour (in Spain this is very late--tapas at 1 pm, lunch at 2 pm or after), and again before dinner (8-9 pm, with dinner later yet).
Tapas were invented in Andalusia. The word means "cover." In Andalusian wine-making regions, a saucer is customarily placed to cover a glass of wine in order to keep the little fruit flies from swarming in. A tidbit of food placed on the dish helped attract clients to the wine bar, so the cook--usually the owner's wife--would out-do herself to make more and better ones.
Tapa-hopping is part of the convivial Andalusian way of life. With a few friends you stop in at several bars to have a glass of wine and sample the tapa specialities of each. It's customary to stand up at the bar.
Here's a tantalizing taste of some of the dishes--hot and cold-- you might find in a tapa bar in southern Spain.
Certainly the superb ham, both serrano , which just means mountain-cured, and the pricey iberico , produced from special Andalusian pigs which grow sweet on acorns. This salt-cured ham is served raw, very thinly sliced. It makes a marvellous combination with fino Sherry.
And, of course, Andalusian olives. They can be the famed Seville olives, sweet, meaty manzanillas ; or gordales , the size of small plums; or home-cured ones, slightly bitter, flavoured with herbs and garlic, or olives stuffed with anchovy. A tapa of mixed olives might include fat caper-berries too.
Amongst cold dishes on the tapa bar are a variety of salads, some wonderfully exotic. For example, salpicon with chopped tomatoes, onions and peppers might include prawns and other shellfish or it might be made with chopped, cooked octopus. Remojón is a salad of oranges, codfish, onions and olives. While it might sound strange, it tastes wonderful. So does roasted pepper salad; ensalada campera, a lemony potato salad; and cooked fish roe dressed with oil and lemon.
Andalusia is famous for its fish and shellfish and a tapa bar is a great place to sample the array. Fried fish, from tiny fresh anchovies (boquerones) and rings of tender squid (calamares) to chunks of fresh hake and batter-dipped prawns are enticing, in deed. Look for cazón en adobo, fish marinated before frying, and boquerones en vinagre, marinated raw fish. The selection of shellfish will astound you--clams and razorshells, mussels, prawns ranging in size from the tiny to the jumbo; crab, lobster, and more.
Then comes a variety of hot dishes. Some are cooked to order--prawns pil pil, sizzled with garlic and oil; garlicky grilled pork loin--while others are dished out of a bubbling stew-pot. You can savour meatballs in almond sauce, kidneys in Sherry sauce, sautied mushrooms, chicken fried al ajillo, with garlic; lamb stew; broad beans with ham; piquant tripe, spicy snails, and, of course, tortilla, a thick round potato omelette. Crisp-fried fritters and croquettes are other great tapas of Andalusia, which produces the world's finest olive oil.
Even if you are far from Andalusia, you can create many of these sunny Spanish flavours in your own home. Tapas make for great parties. Visit our tapas recipes section.
Award Winning Food writer Janet Mendel, author of ten books about Spanish cooking, provides a taste of Andalucía.