Janet Mendel
Author Janet Mendel shares her book A Bite of Spain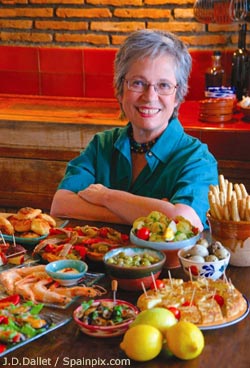 Janet Mendel © J.D.Dallet
After more than 30 years sniffing out recipes across Spain and publishing them in highly successful cookbooks, journalist Janet Mendel has just published her sixth book full of delicious bites from Spain. And this time they really are bites as the focus is all on tapas.
Whether or not you've had a chance to enjoy the tapa culture in Spain, you'll love this opportunity to savour flavours from across the country. And Janet not only provides you with fabulous, tried and tested recipes, but also shares the background to this style of eating.
In essence, tapas are really more than just starters or appetisers. This is an ideal way to share small portions of dishes that could be turned into full meals and thus enjoy a wide variety of flavours and experiences.
Andalucia.com asked Janet Mendel to tell us a little more about her experience in creating this beautiful collection of Spanish recipes.
AC- What inspired this latest look at Spanish tapas?
JM- I wanted to show people how to translate those great tapa dishes to their own table. There is a whole chapter about how to plan a tapas party, including menus using the recipes in the book.
AC- Can you tell us which are your top three all time favourite Spanish tapas?
Cod fritters with a
drizzle of molasses.
JM- Ibérico ham (requires no recipe!), piquillo peppers stuffed with prawns, and buñuelos de bacalao con miel de caña, cod fritters with a drizzle of molasses. Brilliant. But, I like ALL of these tapas, so picking three is a coin toss. 
AC- In your opinion, what sets Spanish tapas apart from the appetisers or starters you might find in the US or other parts of Europe?
JM- I show you in this book how to adapt many tapa dishes to be starters or even main courses--the point is, not to set them apart, but to integrate them. On the other hand, "tapas" are very trendy in the US and England. But they are not exactly the same as in Spain. Restaurants interpret tapas as "small plate dining," where everyone at a table shares several dishes in succession. Tapa-hopping is an unknown custom abroad. And, I'm always surprised to see American or British tapa restaurants serving pizza or other non-Spanish dishes.
AC- How did you become such an expert on Spanish cuisine? 
JM- I'm a journalist, not a chef. I think it was my reporter's instinct that took me into kitchens all over Spain. Sniffing out recipes turned out to be a great way to get to know people. By the way, this is my sixth cookbook featuring Spanish recipes.
AC- The book is gorgeous. How do you feel about it as a final product?
JM- Very pleased. As I said, the photography adds so much. And the designer, Cheryl Gatward, did a great job in setting up the recipes so they are really easy to use in the kitchen.
AC- What was the biggest challenge in putting this book together?
JM- For me, the hardest part is recipe testing. After tasting a dish, I have to go back to the kitchen and figure out the measurements for ingredients, the timing for cooking, and the instructions. Sometimes I test a recipe over and over to get it right. I felt quite pleased with myself with this cookbook to finally get the bacalao al pil pil (salt cod in garlic pil pil sauce) just right.
AC- Finally - can you give our readers at Andalucia.com a recommendation for some of your favourite tapa bars or restaurants in Andalucia?
JM- Andalucia is so full of great tapa bars--it's hard to single out just a few. I like El Faro in Cádiz; the Modesto in Sevilla; El Pimpi and Orellana in Málaga.