Michelle Chaplow interview takes a Bite of Spain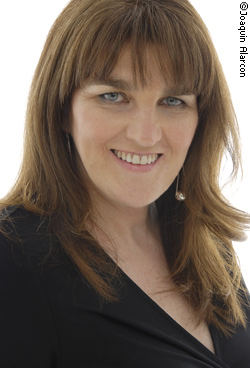 Michelle Chaplow
Michelle Chaplow has lived and worked in Spain since 1991. Her love of Spanish culture and traditions is evident in her collection of award-winning images of Andalucia. It's one of the most extensive in the world. Her work has appeared worldwide in books (including National Geographic guide books), newspapers and magazines.

Books appear as if by magic on the bookstore shelves, however, there are months of work behind the text, design layout and of course the photography, which is Michelle's specialist field. Upon receiving the photographic commission for "A bite of Spain" she called a former assistant, David Doyle, a specialist in food styling who now lives in London, and her right hand man in Spain, Joaquin Alarcón.  
Michelle affirms it was great fun working alongside David and Joaquin. As she recalls, one day they needed a curved table, and Joaquin, with his interior design connections, had it made up by an expensive furniture designer at a steal of a price.  David, on the other hand, had all kinds of tricks for lighting the food imagery. 
About half of the food shots were styled and shot in Michelle's own state-of-the-art studio located in Estepona, Spain. The other more complicated recipes were shot at La Menorah restaurant (Arena Beach Estepona) at Finca Cortesín and specially prepared by their chef Francisco. This is a huge tall man whom they call "Peque", which means "little one" in Spanish.   
The work at La Menorah commenced at 9:00 p.m. one spring evening and a team of eight of worked until daylight on some 20 dishes. It was like a military operation, all the ingredients were procured by the restaurant. The team arrived with a laptop a fully calibrated monitor, a huge infinity curve light table, tripods, stands, soft-boxes lighting and camera gear. The then proceeded to totally clear about half of the elegant premises in order to shoot directly from the camera to the laptop allowing the art director to give an immediate "yes" or "no". The team was comprised of Michelle taking the images, Cheryl Gatward art directing, Peque preparing the tapas dishes, Joaquin and David looking after the lighting and styling, the restaurant owner Isaac standing by and two more extra kitchen staff. It was a mammoth task, but highly enjoyable.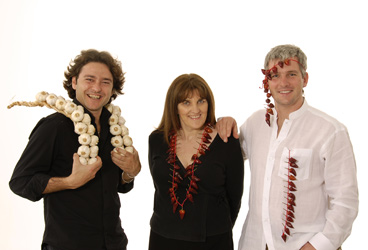 Joaquin, David and Michelle also hit the road travelling to San Sebastian, Madrid, Barcelona, Seville, Ronda, Jerez and Malaga photographing and sampling tapas throughout Spain. Michelle particularly loves the tapas lifestyle, as she says, "These great little gastronomic delights simultaneously provide you with socialising and a chance to get to know this rich and varied land that is my adopted home, Spain."
Recently, Andalucia.com caught up with Michelle to field a few questions about the unique experience of photographing little bites of Spain.
AC- What was the most challenging photo shoot you carried out for this book? 
 
MC- I think the most difficult one was the one that ended up on the cover, the Malaga Salad or Ensalada Malagueña. We procured the ingredients, none of us were very familiar with this salad. We tried to arrange it graphically into different patterns and shapes, nothing worked. Apparently Joaquin's mother, a Malagueña herself, just throws it all into a bowl and its delicious. After spending 3 or 4 hours we took her advice and low and behold it ended up on the cover. Without doubt, it was the most challenging shoot.
Just look at that same salad as it appears on page 97 when made in a mould to see how stylish it can actually be. When Cheryl Gatward the designer told me this jumble of ingredients we had photographed almost for fun was on the cover, I was reluctant until I saw it. Then I realised it was absolutely perfect, and I must say Im very happy with the end result. Its just one of those unexpected surprises that sort of jumps out at you and makes your day!
 
AC- What did you enjoy most about shooting photos for a Bite of Spain?
MC- Well it was a great excuse to go to visit a wide array of fabulous tapa bars across the country. It's not just photographing food; it's a part of the Spanish lifestyle. Tapas are a whole occasion and all of these bars are so welcoming and also travelling throughout Spain it's good to see the variations throughout the country.
 
AC- Which tapas do you find most irresistible?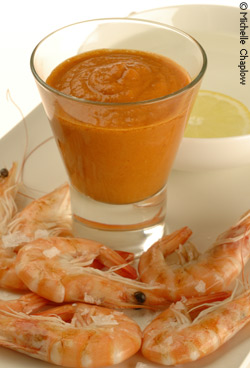 Prawns with Romesco sauce
MC- I love simple dishes like the potato tortilla and cured ham but Andalucia's salmorejo is really my all time favourite. I've been known to take long detours just to go through Cordoba for genuine salmorejo. This dish is also outstanding at the Arcos de la Frontera Parador. Another big favourite of mine are the prawns in romesco sauce. I'll definitely be trying the recipe for that delicious sauce.

AC- Most of the photos were shot in your Estepona studio. Tell us about the features of your studio and what makes it such an ideal place to carry out this kind of work.
MC- Basically its a state-of-the-art purpose built studio with an infinity curve, but for the tapas photos I had to have a "pack shot" infinity curve table made, designed specifically to hold one, or maximum two plates of tapas. We designed it and had it made to measure in the Estepona industrial estate. It was built with enough space for studio lighting underneath, above and on the two lateral sides. We used mirrors to reflect more light and to create catch lights on the cutlery. All plates, napkins and cutlery had to be new, shining, perfect with no scratches  that meant meticulous shopping for pristine pieces that would look great under the demanding lights of the studio.
AC- What was your favourite Andalucian location when carrying out the photos for this book?
MC- Tragatapas is fantastic for tapas in Ronda and thats the sister restaurant of Tragabuches. They've been such a success theyre opening seven tapa restaurants in London. Another big favourite of mine is the one in Seville. I found this years ago when I was studying photography at the University of Seville. Its called La Bodega de la Alfalfa. Its in the old Jewish quarter  Barrio de Santa Cruz. The great thing about that bar is that it has no front  its open into the street and people just spill out into the street. Theres a self service area with barrels in the street where people can stand around and enjoy their tapas. In the back theres a place to sit. I love the way the Sevillanos dress up in the evening  and then there is the entire ambience, the noise, the smell, the shouting to the kitchen. Its all part of the Spanish Tapa experience.