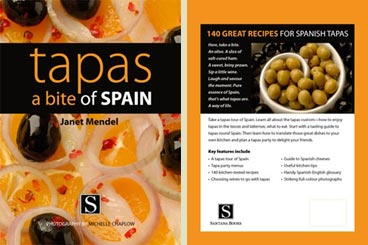 Tapas A Bite of Spain book
Tapas a Bite of Spain is filled with scrumptious cold salads, sauces, dips and dressings, bite-sized bits of the best Spanish cured hams and aged cheeses, traditional flavours off the griddle and out of the frying pan and a host of options for serving up everything from Spanish potato tortillas to fresh anchovies or autumn mushrooms. Janet Mendel's newest cook book features only the very tastiest Spanish tid bits accompanied by mouth watering photography by Michelle Chaplow. What's more, recipes feature both metric and US measurements, making it easy to use on both side of the Atlantic.
Tapas a Bite of Spain takes you around the entire country in search of the finest flavours. Have you ever tried Seville's snails in a spicy sauce? How about the Córdoban "flamenquín", fried pork and cheese rolls? Or here's a speciality for you - chipirones en su tinta, baby squid cooked in their own ink - fresh from any Basque kitchen. All of these and so many more wonderful flavours are explained in a special section dedicated to tapas as a way of life in Spain.
Author Janet Mendel is a long time expat living in the south of Spain where she has been writing about food for more than 30 years. She is the author of several excellent, easy to use cookbooks that make Spanish cuisine accessible to "chefs" of all skill levels. Her recipes are not only well written but "kitchen tested" which ensures they contain all the practical tips users need to consistently turn out the very best results.
 
Of special interest to readers in the south of Spain, each and every one of these recipes is based on traditional Spanish products that are easy to find locally. For the expat in Andalucia, who often turns to imported ingredients to recreate old favourites from home, this is good news as it cuts out considerable expense and helps move to a fresher, more Mediterranean style diet.
 
On the other hand, those from abroad may be surprised to find that the very best of Spanish tapas are generally produced from simple, staple ingredients like eggs, potatoes, olives and olive oil, garbanzos, tomatoes, almonds, bread crumbs, garlic, onions and other easy to locate ingredients. While you may need to track down a good source of saffron, quail eggs or "piquillo" peppers for some recipes, few will require you to stretch your imagination too far.
 
As a special treat this book is filled with the most scrumptious food photography imaginable. In fact, if the images didn't threaten to spoil the appetite, it would make for an excellent coffee table book! Nearly every other page is illustrated in full colour images of both prime ingredients and gorgeously presented tapas. We also get a glimpse into Spain's tapa culture at the bars and restaurant kitchens that turn out these tasty bites. Photographer Michelle Chaplow is also a qualified food scientist. She has been photographing Spain for over 20 years and her love for Spanish cuisine shows through her work.
Read our interview with Tapas A Bite of Spain's author, Janet Mendel.
Read our interview with photographer Michelle Chaplow for stories behind the scene in photographing tapas for A Bite of Spain.