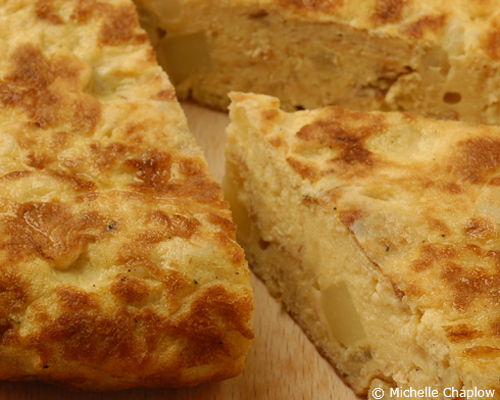 Spanish Omlete (orTortilla de patata) is the perfect vegetarian tapa
Spanish omlete recipe - Tortilla de Patatas
by Janet Mendel
Ingredients - to serve 4
600g potatoes
160ml olive oil
1 1/2 chopped onions
6 eggs
1/2 tsp salt
Instructions
Peel the potatoes and either slice them thinly or cut into dice.
Heat the oil in a non-stick frying pan and cook the potatoes slowly until fork tender, about 30 minutes, adding the chopped onions after 15 minutes.
Nb: The potatoes should not brown.
Beat the eggs in a bowl with the salt. Place a plate over the potatoes and tip out the excess oil to be used again in a moment.
Combine the potatoes and onions to the bowl with the beaten eggs and mix.
Add the oil to the frying pan and pour in the mixture of eggs, potatoes and onions.
Cook on a medium heat until set on one side. Shake the pan to keep it loosened on the bottom. Place a plate on top of the pan. Hold it tightly and reverse the pan, so the tortilla turns out on the plate. If necessary, add additional oil to the pan.
Slide the tortilla back into the pan to cook on the reverse side. Slide out onto a serving plate.
For best results do not over cook the tortilla and ensure that the inside is left ever so slightly gooey and moist.
Makes 16 tapa servings.
Feeling Creative?
The beauty of this dish is that it is delicious on its own but can also act as a great base for more meals. The tortilla compliments many other ingredients, like cherry tomatoes, garlic and Jamon Serrano, which can all be added in with the egg, or before, according to preference. Enjoy the authentic Spanish tortilla as it is, or use it as a nutritious vehicle for whatever takes your fancy!
Award Winning Food writer Janet Mendel, author of ten books about Spanish cooking, provides a taste of Andalucía.