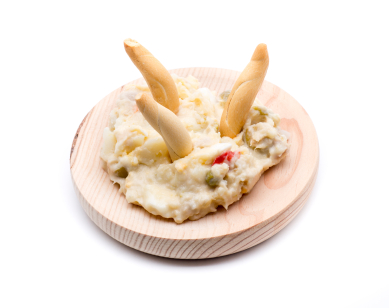 Ensaladilla Rusa
Russian Salad
Makes 18 tapas or 6 starters.
Ingredients:
4 medium potatoes
3 carrots, peeled
75g /2½ oz fresh or frozen shelled peas
1 teaspoon salt
2 tablespoons extra virgin olive oil
2 piquillo peppers, chopped (2 tablespoons)
1 hardboiled egg, chopped
1 spring onion, finely chopped
3 tablespoons chopped pickle
1 teaspoon Dijon mustard
3 tablespoons chopped flat-leaf parsley
120ml/ 4 fl oz mayonnaise
3 tablespoons white wine vinegar
Recipe:
1.       Cook the potatoes and carrots in boiling water to cover until tender. The carrots will take about 12 minutes; the potatoes a total of 20 minutes. Cook the peas until tender, about 10 minutes. Drain vegetables and chill them.
2.       Peel the potatoes and cut them in 12mm / ½ in dice. Cut the carrots lengthwise in quarters then slice crosswise into small dice. Combine the potatoes, carrots and peas in a bowl. Add the salt, oil, chopped piquillo peppers, egg and onion.
3.       In a small bowl combine the pickle, mustard, parsley, mayonnaise and vinegar. Whisk until smooth. Stir into the potatoes. Let the potatoes stand 2 hours at room temperature or, covered and refrigerated, up to 24 hours. Serve cold or room temperature.