Boquerones en Vinagre
Anchovies in Vinegar
Ingredients
½ kg very fresh boquerones (fresh, uncured anchovies)
½ litre white wine vinegar
125 ml extra virgin olive oil
2 tablespoons fresh minced parsley
2 garlic cloves, peeled and chopped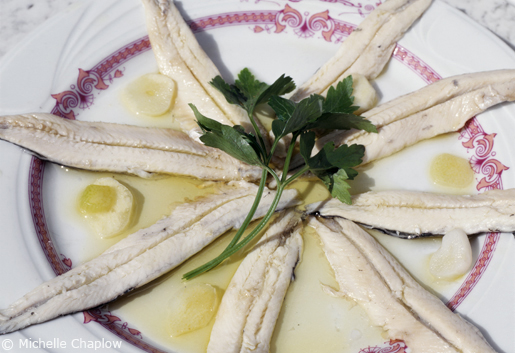 Anchovies in vinegar.
Clean the fish well, removing the head and the spine, as well as the tails and the insides. (Occasionally you will find the fish already cleaned at the market, just be sure it is fresh.) Once cleaned, place the fish in a dish and cover with vinegar. Leave, covered, in the refrigerator for at least six hours.
Drain off the vinegar, then dress them with a bit of salt, olive oil, and vinegar, and the garlic and parsley. Can be served immediately with fresh crusty bread on the side, or can be stored, covered, in the refrigerator for up to three days.