Janet Mendel - Author and Contributor to Andalucia.com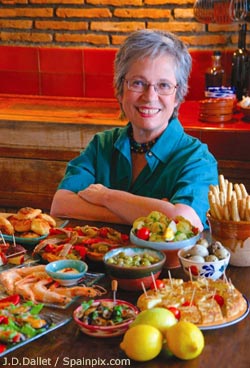 Janet Mendel © J.D.Dallet
JANET MENDEL is an American journalist who has lived in Spain since 1972.
Janet Mendel wrote a monthly cookery column for the pioneering LOOKOUT Magazine which was Spain English language monthly Magazine. She is also the author of over ten cookery books on Spain including Shopping for Food and Wine in Spain, Cooking in Spain, The Best of Spanish Cooking, Cooking form the heart of Spain, Cooking in Spain, Traditional Spanish Cooking, My Kitchen in Spain, Great dishes from Spain, Tapas and More Great Dishes from Spain, Tapas: A Bite of Spain.
Traditional Spanish Cooking (Garnet Publishing) was selected co-winner of the 1996 Andre Simon food book award.
Janet was one of the first contributors to Andalucia.com with her series of recipes under the title 'A taste of Tapas in 1996. These included Albondigas, Cazón en Adobo, Salpicón de Mariscos, Remojón, Tortilla de Patatas and Eight provincial specialities'. A later series included Gambas al Pil Pil, Boquerones en Vinagre, Ensalada de pimientos asados, Berenjenas con Miel, Flamenquin, Croquetas, Ensaladilla Rusa, Pollo al Ajillo and Bomba de Patatas.
Janet Mendel's book about Spanish cooking, My Kitchen in Spain, with more than 200 authentic recipes, was published in 2002 by HarperCollins U.S.A. With a wealth of stories about her more than 30 years in Andalucia, she takes you to the soul of Spanish cooking.
Read an interview with Janet reflecting on her book A Taste of Spain.
For more information about Janet's books, at: Amazon
Read more food related stories and recipes from Janets's blog aptly called My Kitchen in Spain.