Cured Ham - Jamon 
Cured ham is called jamón serrano, or mountain-cured ham. It can be very good. But, Andalusia has some special pigs with a southern accent. These are a native breed called iberico, a small brown pig which thrives on the acorns from scrub oaks and cork trees. From the iberico comes the most superb cured ham (D.O.Jamón de Huelva, which includes the town of Jabugo; and D.O. Los Pedroches, from the province of Córdoba).
These are sometimes also called pata negra, because the hams have a black hoof. Real iberico ham--which is very expensive--is served raw, thinly sliced with bread. It is never used in cooking. However, other cured serrano ham, and especially the fatty trimmings, are part of popular dishes throughout the region.
The most famous place in Andalucia for the cured hams "jamon serano" is the village of Jabugo in the Sierra de Arecena in Huelva province. The nearby villages of Cumbres Mayores and Cortegana are also devoted to production of fine hams. It is said that the micro climate of these hills is ideal for the oak trees which provide the acorns on which the pigs feed. Pata Negra ham is the finest and most expensive, it is produced from pigs hat have had a diet exclusively of acorns.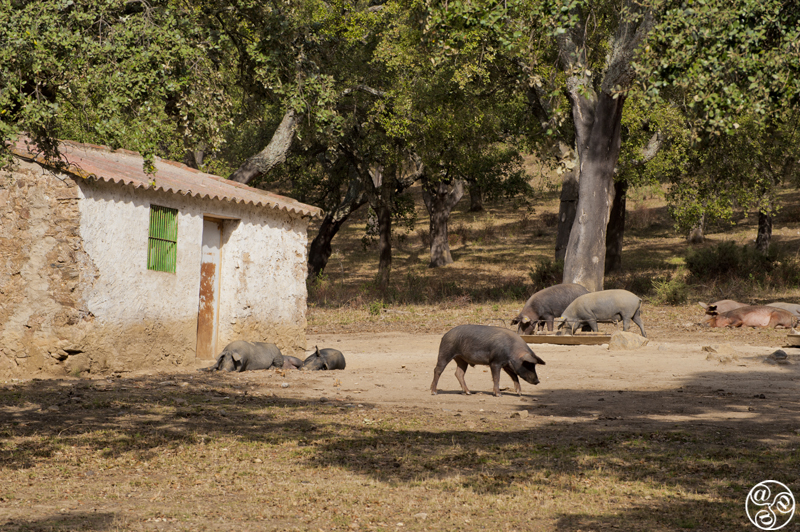 Another popular ham comes from a small village in the Alpujarras - Trevelez. This ham is made from white pig and has been popular since the 18th century. Here the clean dry mountain air is ideal for the curing process. Other cured Alpurranian hams are from Capileira, Lanjaron and Orgiva. At El Valle de los Pedroches in the province of Cordoba. The white pig has been is crossed with the Iberian pig, to produce a distinct quality ham.
Cured ham cam be purchased from € 6 a kilo on offer in the supermarket up to € 30 a kilo for the most sought after 'pata negra'.
"Jamon Jamon" is a food orientated story about 'cured ham' from Lawrence Bohme's collection. He takes the title "Jamon Jamon" from the controversial erotic Spanish Surrealist film directed by Bigas Luna, starring Javier Bardem and Penelope Cruz, in which ¨Jamon¨ is symbolic of masculinity. Read our film review of Jamon Jamon.
Visit the Casa-Museo del Jamón on the Plaza de Nuestra Señora de la Cabeza, in Rute Village, Cordoba province, it is close to the anís museum. A visit to this museum will give you a great insight into this delicacy, from the museum´s butcher-turned-curator.