Drinks
SPANISH WINE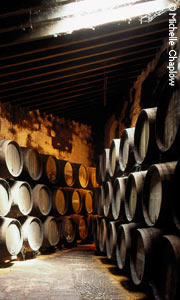 Sherry Bodega, Jerez.
If you are an aficionado of fine wine, Spain is the place for you.
With a wine-making tradition spanning more than 2000 years and with more vineyard acreage than any other country in the world, Spain is producing wines of increasingly good quality. There are excellent reds from traditional areas such as Rioja and Navarre, and also from emerging wine-growing regions such as Ribera del Duero and Somontano. Delicious whites are being made with indigenous Spanish grapes in regions such as Rías Baixas in Galicia (home of the Albariño grape) and Rueda in central Spain, where the Verdejo grape is used. Bubbly cava from Penedés in Catalonia, made following the same method as champagne, is the world's best-selling sparkling wine.
More>
ANDALUCIAN WINE
Wine in Andalucia is produced in four "Denominación de Origen" areas.
More>
Beer
Beer (cerveza) is enormously popular in Spain, which is in fact one of Europe's major producers of lager.
More>
Liqueurs and Spirits
Brandy is a favourite digestive to end a meal. Most Spanish brandy is produced in Jerez, where it has a protected trademark, Brandy de Jerez. The production process involves the solera system, also used to mature sherry, where maturing takes place in rows of barrels stacked on top of each other, the lowest being the oldest and closest to the floor, which is suelo in Spanish, from where the name solera comes. Brandy is aged in casks that were once used to mature sherry, the oloroso (full-bodied) type in particular. This imbues the brandy with a similar distinctive nutty taste. According to EU regulations, for a spirit to be officially recognised as a brandy, it has to be matured for at least six months and to derive from grapes.