Olives & Olive Oil
Andalusia is the world's largest producer of olive oil and its flavour is basic to the region's cooking. Starting at breakfast, when toasted bread is drizzled in virgin oil to eat with morning coffee.
Fried foods are superb. One of the "signature" dishes of coastal regions is pescaíto frito, a mixed fish fry with fresh anchovies, rings of squid, tiny sole, small hake and red mullet, all crisply fried in olive oil.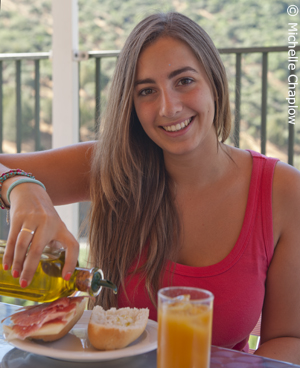 Breakfast, would not be breakfast in Andalucia, without olive oil.
At tapa bars you'll also find fried croquettes and fritters. Even some typical sweets are fried in olive oil, such as roscos, anise-scented rings, and empanadillas, little pasties filled with sweetened and spiced pumpkin. Every province of Andalusia has excellent olive oil, but some enjoy the quality label of denominacion de origen (designation of origin, or D.O.). These are Sierra Magina and Sierra de Segura in the province of Jaén, and Baena and Priego de Córdoba in the province of Córdoba.
Andalusia's most famous contribution to world gastronomy--gazpacho--really has its origin as simple, peasant food--bread, olive oil and garlic crushed in a mortar. In Andalusia today gazpacho usually is made in an electric blender, but it is still bread, olive oil and garlic--plus tomato, cucumbers, onions, green peppers--and vinegar or lemon juice to set off the flavors. There are also traditional gazpachos with no tomatoes at all. An example is the "white" gazpacho of Málaga - bread, olive oil and garlic, plus crushed blanched almonds, served with muscatel grapes, a wonderful contrast.
Although most olive trees produce fruit destined to be crushed for oil, some varieties are favoured for table olives, in particular the manzanilla and gordal. Other varieties are cured in traditional ways and flavoured with garlic, thyme and fennel. Andalusian markets usually have stalls selling a variety of olives, plus pickled vegetables and capers.
Read more about olive trees, olive groves, olives and olive oil: