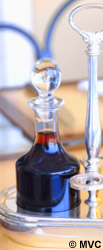 Sherry Vinegar
SHERRY VINEGAR
There is nothing more certain to ruin a delicious fresh salad than an overpowering, insipid or just plain unpleasant, dressing.
Thankfully, the days are long gone when a glob of mayonnaise was deemed sufficient to dress a salad. Visit any gourmet delicatessen today and there will certainly be an impressive choice of, not only olive oil, but also vinegars, ranging from trendy Balsamic to health-conscious cider vinegar. However, although sherry is a cooking ingredient in almost all parts of Spain, vinegar made from sherry is still considered a gourmet ingredient, except in the southwestern area around Jérez. In Cádiz, for example, one of the traditional local recipes is Salpicón de Langostino y Tomate (shrimp and tomato in sherry vinaigrette).
Sherry is not only one of world´s oldest wines, savoured and praised over the centuries for its fine quality and unique taste, it is also the most versatile. Sherry vinegar adds a crisp, distinctive taste to many recipes and those who still only associate the drink as being sipped by little old ladies in staid English parlours should certainly think again!