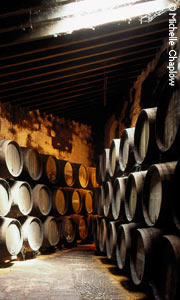 Sherry Bodega, Jerez.
If you are an aficionado of fine wine, Spain is the place for you.
With a wine-making tradition spanning more than 2000 years and with more vineyard acreage than any other country in the world, Spain is producing wines of increasingly good quality. There are excellent reds from traditional areas such as Rioja and Navarre, and also from emerging wine-growing regions such as Ribera del Duero and Somontano. Delicious whites are being made with indigenous Spanish grapes in regions such as Rías Baixas in Galicia (home of the Albariño grape) and Rueda in central Spain, where the Verdejo grape is used. Bubbly cava from Penedés in Catalonia, made following the same method as champagne, is the world's best-selling sparkling wine.
The best-known wines comes from the 50-odd Spanish Denominación de Origen areas, equivalent to France's Appellation d'origine controllée. Red wines may be young (known variously as vino del año, vino jovén, vino de cosechero) or aged in oak barrels, followed by a second period of bottle aging. Crianza, reserva and gran reserva indicate the different degrees of aging.
The predominant red grape in Spain is the Tempranillo, introduced by French monks in the Middle Ages and thought to be related to the French Pinot Noir. It can be used on its own to make varietal wines, but is often combined with smaller quantities of other varieties.
Southern Spain produces one of the most famous wines in the world, Sherry, grown in the area next to Jerez de la Frontera in the province of Cádiz. This is one of Andalusia's four Denominación de Origen areas (equivalent to France's Appellation d'origine controllée), together with Málaga, Montilla-Moriles and El Condado de Huelva. In addition, there are several Comarcas Vinícolas (smaller wine making districts), not to mention a handful of innovative vintners who are starting to produce interesting red table wines.
Click here for a fascinating detailed overview of Andalusian wines by Mark Little.
The Vendimia is the festival in September that takes place at the end of the grape harvest. Click here for a report on the Vendimia Festival in Jerez.