Refreshing Spanish Sangria
Award winning cookery writer Janet Mendel shares her freshening summer recipes for Spanish Sangria and Tinto de verano or chilled summer wine.
Two fabulous summer refreshments with low alcoholic content. Ideal for summer al fresco dining and just perfect to accompany a delicious selection of Spanish tapas.
Tinto de Verano / Summertime Red Wine Cooler
This is a light and refreshing summer drink, for which there are no set proportions. Keep a bottle of light red wine in the fridge, along with gaseoso, bottled, sweetened, fizzy lemonade. Pour wine into a tall glass-with or without ice-add gaseoso to taste. A slice of lemon is good, but not essential.
Sangría / Red Wine Sangría
Serves 8 to 10.
Sangría makes a great party drink and can be mixed in large quantities. Choose an inexpensive young red wine with no oak. Use any combination of fruit-strawberries, oranges, apples, pears and grapes are some of the best. (Apples float, oranges sink.) Dilute the sangría to taste with fizzy water.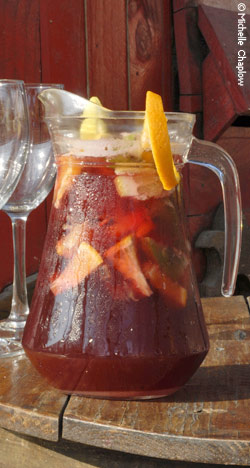 A pitcher of Summer Sangria
60 g / 2 oz / ¼ cup sugar
Strip of orange zest
220 ml / 8 fl oz / 1 cup water
½ litre / 1 pint / 2 cups chopped or sliced fruit
4 tablespoons brandy or liqueur such as Cointreau
1 bottle chilled red wine
½ litre / 1 pint / 2 1/3 cups chilled soda water
Combine the sugar in a small saucepan with the zest and water. Bring to the boil and simmer 2 minutes. Allow the sugar syrup to cool. Strain it into a pitcher. Discard the orange zest.
Add the fruit and brandy to the pitcher. The fruit can macerate, refrigerated, up to 2 hours. Add the chilled red wine. Immediately before serving, add chilled soda water to taste.
Serve the sangría and fruit in glasses or goblets.