sightseeing tours in seville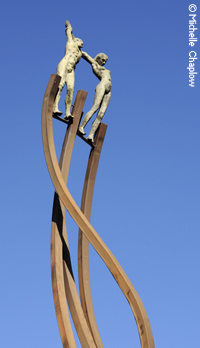 Street Art, Seville.
Seville is often referred to as the 'Jewel of Andalucia' and it's easy to see why; be it for business or for pleasure the city has such a lot to offer with its rich and colourful mix of history and culture.
Days can be spent visiting its famous baroque cathedral; the largest in the world, with its Moorish tower from which the best views of the city are to be had, the Alcazar or Moorish palace and garden, the Roman ruins of Italica and the old tobacco factory that was the inspiration for Bizet's opera Carmen. For those of a more epicurean bent who wish to experience Seville's gastronomic delights there are cookery courses, tapas tours and wine tours.
Translators are at the disposal of people on business to make transactions more fluid and viable and getting about is easy.The open-top Hop On, Hop Off buses are ideal for helping the first time visitor to orientate themselves as you can hop on and off throughout the day, finding favourite spots to enjoy in your own time.
MONUMENTAL Seville Walking tour

Immerse yourself in Seville with a historic walking tour of Seville center. Guided visit to the Alcazar palace, Cathedral and Archivo de las Indies. Monday to Saturday at 11.35 hrs, duration two hours.   
38.00 Euro per person.

Monumental Seville MINI-BUS Tour

Discover the emblematic monuments of Seville by minibus: University, Old Tobacco Factory, Plaza de España, San Telmo Palace, the Golden Tower, Isabel II Bridge, Macarena Basilica. Daily at 09.20 hrs, duration four hours.
54.00 Euro per person.

Unusual Seville

We will start with a Sightseeing tour and discover the most emblematic monuments of Seville, the University, the Old Tobacco Factory scene of the story of Carmen, etc...Later, a lovely river boat trip along the Guadalquivir. Close by also, we'll see the famous Isla de la Cartuja and the monastery where Christopher Columbus lived for some years.  
Approx. 2hrs 30mins -  23  €

Seville, Fascinating & Monumental Tour

You will discover the most emblematic monuments of Seville by minibus like the University, the Old Tobacco Factory, the Bullring with the taurine museum etc.. and in the afternoon you will continue the tour with a wonderful boat trip along the Guadalquivir River.  
Approx. 7hrs -  78  €

Tapas Tour in Seville

City centre walk along several bars and restaurants to taste a mix of modern and classic tapas. The tour is available daily at 1:00 pm with English speaking guide and lasts two and a half hours.
38.50 Euro per person

Destinations