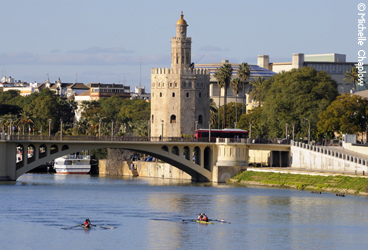 getting around seville
By far the best way to get around Seville is on foot. The narrow alleys, lack of parking and infinite one-way streets make driving complicated at best, highly stressful at worst. Best avoided, unless your hotel has a car park or garage (see below).
If you want to learn about the city as you walk, often discovering little-known attractions, you can take a themed guided tour (artistic, monumental, religious, botanical, gastronomic - tapas, nighttime - flamenco etc).
Seville Hop On Hop Off Bus

Get to know the Andalusian capital by bus and get on and off as many times as you want.
20 Euro.

Guadalquivir River Tour

A unique chance to discover Seville from a privileged perspective, on board a Guadalquivir river cruise. Cruise runs daily, every hour from 10:00 hrs to 20.00 hrs.  Departure pointis Torre del Oro Wharf
20 Euro.

Sevilla Bike Rental
Sevilla Bike Rental
All of Seville is one of the first Bike Rental shops in Sevilla, sice 2010 very involved with fair price, 10 € a day !!

If you live in Seville, either short or long-term, you will find the buses very useful; many people make use of the bike lanes, either with their own bicyle, or using Sevici , the city's bike-hire scheme. For heading out to the suburbs, or across the southern part of the city, the Metro is very convenient. For short journeys, taxis are cheap and plentiful.
Find more information on these pages:
Car and Parking 
Bus and Tram
Don't drive in the old centre, the casco historico, unless it's unavoidable. More >
Seville has an extensive bus network, covering all barrios around the city. More >
Metro
Taxi
It finally opened in spring 2008, and is used by an estimated 20 million passengers a year. More >
Taxis are white, with a yellow stripe; look for the green light on the roof to indicate it's free. More >
Bicycle
Tourist services
SEVici, Seville´s public bike rental service, has 2500 bicycles from 250 stations around the city. More >
Bus tour, horse and carriage, Segway, boat trip are but a few of the opportunities available. More >