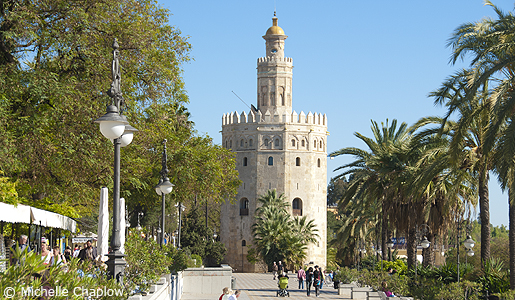 The Torre del Oro (Golden Tower), which dominates the banks of the river Guadalquivir.
Seville top 10
As the capital of Andalucia, Seville has a wealth of history, culture and gastronomy to offer. From Roman and Moorish delights to contemporary architecture and interactive museums, you'll have plenty to keep you busy on your visit to La Hispalense.
Whether you're visiting for Semana Santa - in which case beware, as many of these places are closed that week - or Feria, or another time, here is our list of top 10 of things to see and do in Sevilla.
1) Cathedral and Giralda
2) Alcazar
Recognised by UNESCO as a World Heritage site (along with the Alcazar), this is the world's largest cathedral (or largest Baroque cathedral, depending on which stats you believe). The old minaret from Moorish times when a mosque stood here - now the basilica's belltower - is Seville's icon: the Giralda.More>.
An exquisite Mudejar palace (made by Moorish craftsmen under Christian rule), with fabulous patios and salons, and a pretty garden of pools, palms and pavilions. It's the oldest occupied palace in Europe - the King of Spain stays here when he visits Seville. Don't miss the outdoor plays and concerts in summer.More>
3) Parque Maria Luisa & Plaza de España
4) Triana
The lungs of the city, this park celebrates its centenary in 2014; it was the setting for Expo 1929, whose centrepiece was Plaza de España. Many films have been shot in this spectacular space with its canal, bridges and amazing ceramic tiles.More>
This area, located across the river Guadalquivir from the main part of the city, calls itself an "independent republic" - birthplace of bullfighters, flamenco artists, and sailors. Worth visiting: the market, Castillo San Jorge (the Inquisition Museum) next door on Triana bridge, and the new ceramic tile museum, Centro Ceramica Santa Ana, due to open in April 2014. More>.
5) Metropol Parasol
6) La Cartuja
Seville's contemporary architectural icon, the largest wooden structure in the world. Its multi-level attractions feature a rooftop-level walkway, bar and restaurant; performance and play area; market; and Roman ruins. The steps are a great vantage point for Semana Santa processions which pass by. More>.
The 15th-century Carthusian monastery where Columbus planned his voyages; subsequently a ceramics factory founded by an Englishman (hence the chimneys); then headquarters of Expo 92. It's now a contemporary art centre; a delightfully quiet, contemplative spot. More>.
7) Museo del Baile Flamenco
8) Barrio Santa Cruz
You can't come to Andalucia without seeing a flamenco show; here the nightly performances are top-notch (take a class, too); you can learn about the dance from the interactive audio-visual displays, and there are art exhibitions too. More>.
While this historic area of Seville is on every tourist trail, the old Jewish quarter is still worth exploring - windy, narrow, cobbled streets; tiny bars with hams hanging above your head and black-and-white bullfighting photos on the wall; romantic squares lined with orange trees; glimpses of cool tiled patios.More>.
9) Italica
10) Torre del Oro
Spain is replete with Roman ruins, but this is one of the finest: the first city to be built outside Italy, it's the birthplace of Emperors Trajan and Hadrian. Highlights include the 25,000-seater amphitheatre and stunning mosaics.More>.
While the Naval Museum inside isn't the most thrilling, the 13th-century Moorish tower on the banks of the Guadalquivir is one of Seville's most-loved landmarks. Best admired from across the water at one of Triana's riverside restaurants and bars.More>.