UNESCO WORLD HERITAGE SITES IN ANDALUCIA
SEVILLE
Categories: urban landscape, Medieval European (added to list in: 1987)
What UNESCO says: "Together these three buildings form a remarkable monumental complex in the heart of Seville. The cathedral and the Alcázar - dating from the Reconquest of 1248 to the 16th century and imbued with Moorish influences - are an exceptional testimony to the civilization of the Almohads as well as that of Christian Andalusia. The Giralda minaret is the masterpiece of Almohad architecture. It stands next to the cathedral with its five naves; the largest Gothic building in Europe, it houses the tomb of Christopher Columbus. The ancient Lonja, which became the Archivo de Indias, contains valuable documents from the archives of the colonies in the Americas."
* The Cathedral
What there is to see: a huge, imposing basilica, built over a mosque, whose highlights include a massive gold altarpiece, paintings by Murillo and a magnificent tower, The Giralda, offering superb views over the city. Tip: for a bird's eye view of the flying buttresses, go to the EME Catedral's terrace bar for a drink. Exhibitions and concerts.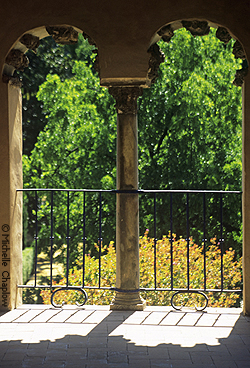 The Alcazar itself resembles a painting.
* The Alcazar
What there is to see: a mish-mash of architectural styles and periods, making up a fascinating tour through history - various buildings featuring courtyards, baths, pools, tapestries and intricate carvings, plus a lush garden. Exhibitions, and outdoor plays and concerts in summer.
* The Archivo de Indias
What there is to see: a 16th-century building, formerly the stock exchange, housing 40,000 documents and maps (including fascinating city plans) referring to voyages to the New World, covering three centuries; an extraordinary research resource. Exhibitions.