The Giralda
Icon of Seville, the magnificent Giralda was the tallest building in the city for over 800 years, dominating the skyline at 103m. Originally built in 1195 as the minaret of the Aljama mosque, it is now the belltower of the cathedral, and is recognised as World Heritage by UNESCO.
The name Giralda means "she who turns" - girar is to turn in Spanish, after the weather vane on top of the tower, a statue representing faith called El Giraldillo.
Seville Cathedral Tickets

Seville Cathedral Tickets
Ticket Online to explore the world's biggest cathedral and climb the Giralda tower for the best panoramic view of Seville city. Adults 9€

Seville Cathedral Tour

Seville Cathedral Tour
Explore the world's biggest cathedral with an expert local guide. Climb the Giralda tower – based on Marrakech's Koutoubia Mosque, it boasts some of the best panoramic views. Adults 25€ 

HISTORY
The minaret was the culmination of Almohad architecture and served as a model for those at the dynasty's imperial capitals of Rabat and Marrakesh. It was used both for calling the faithful to prayer (the traditional function of a minaret) and as an observatory. The Giralda was highly venerated by the Moorish rulers, who wanted to destroy the minaret before the Christian conquest of the city in 1248, rather than have it used for a religion other than Islam, but were prevented by the threat of King Alfonso X that "if they removed a single stone, they would all be put the sword".
The Moorish structure took 12 years to build and derives its simply beauty from the shadows formed by blocks of brick trellis work, different on each side, and relieved by a succession of arched niches and windows. In its days as a minaret, the tower had three or four copper balls on top of the square structure, of decreasing size, topped by a crescent moon.
This ornamentation was destroyed in an earthquake after the city's reconquest, in the mid-14th century, and replaced by a small belltower and cross. In the 16th century the current belltower with its four storeys and weather vane was added, producing a strange hybrid of Moorish and Renaissance architecture.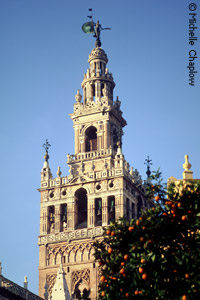 The Giralda
VIEWING POINT
You can climb up to the bell chamber for a remarkable view of the city, especially the Alcazar and Barrio Santa Cruz, and also a bird's eye view of the Gothic details of the cathedral's buttresses and statuary. You walk up a series of 35 gently inclining ramps, wide enough to allow the passage of two mounted guards, or muezzins - the man who called the faithful to prayer. The ramps were designed so that their mounts, either horses or donkeys, could climb the minaret comfortably.
REPLICAS OF THE GIRALDA
Various buildings replicating the Giralda have been built, mostly in the US between 1890 and 1930, probably inspired by the Expo 1929; it was also featured in the video game SimCity.
Destinations