Casa de las dueñas - Palacio de las Dueñas. Palace of the Duquesa de Alba
by Fiona Flores-Watson
The Duquesa de Alba was one of Spain's most famous aristocrats, and one of Seville best-loved personalities, until her death in 2014. With palaces and castles all over Spain, Cayetana was happiest in her home in the historic city centre, Casa de las Dueñas. The house is now owned by her eldest son, Carlos Fitz-James Stuart, 19th Duke of Alba, who officially opened it to the public in March 2016.
A visit to this 15th-century beautiful house, with its large gardens and stunning Mudejar patios, offers you a fascinating insight into the Duchess' life and family, long the subject of intense local interest - the media camped outside the palace's gates on innumerable occasions. Married three times, with six children, the Duquesa was a huge fan of Semana Santa (Holy Week), the Feria and flamenco, and bullfighting - all the touchstones of traditional Sevillano life.
Famous visitors to the palace included Jackie Kennedy, Grace Kelly, and Edward VIII and Wallis Simpson.
You can visit most of the ground floor rooms - Salon de la Gitana, her private sitting rooms, chapel, and study - and the famous garden (Patio de los Limones) about which poet Antonio Machado wrote the immortal words "My childhood memories are of a patio in Seville, And a bright orchard where a lemon tree ripens."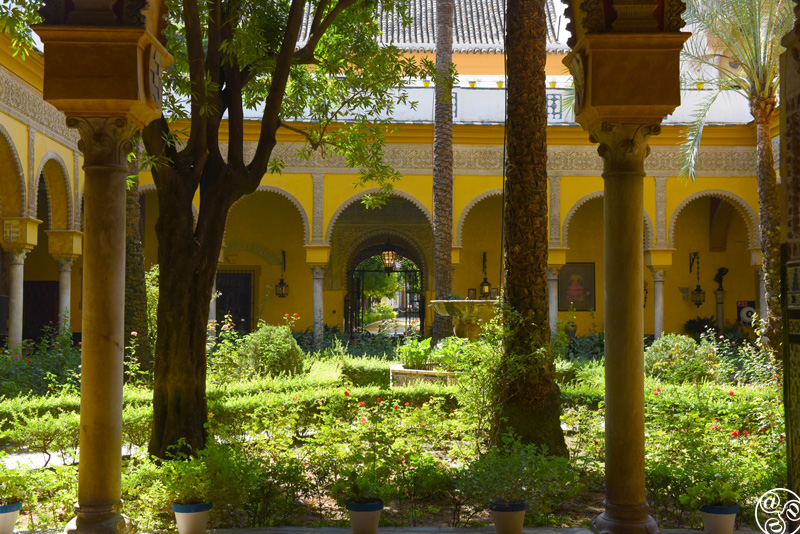 The beautiful flower-filled arcaded main patio has very similar Mudejar features to the Casa de Pilatos -such as intricate azulejos (ceramic tiles), plasterwork and artesonado wooden ceilings -which dates from the same era and was built for the same family, the De Riberas.
Look out for the many photographs of the Duchess, as well as personal gifts, paintings, poems, mementoes and presents in the room with Betis memorabilia.
The shop (on the right as you leave, in the Patio de Apeadero, where you dismount from your carriage) has an excellent selection of books, Andalucian leather goods, items with designs replicating the ceramic tiles, and Duchess-themed items, as well as the Casa de Alba gourmet food range, including extra virgin olive oil from their estate in Cordoba bearing ancestral family portraits by the likes of Goya, heraldic biscuits, orange-blossom honey, and even orange-flavoured beer.
You can book a guided tour by contacting the palace a few days before. There is an audio guide available in English and Spanish from the ticket office for 2 €.
Opening hours
Summer (April to September) from 10.00 to 20.00
Winter (October to March) from 10.00 to 18.00.
Closed on 1 January, 6 January and 25 December.
Admission
Adults: 10 €
Children aged 6-12, disabled and over-65s (with valid documentation): 8 €
Children under 6: Free.
Also free entry on Mondays from 16.00 hrs until full capacity (free tickets are only available from ticket office, from 16.00 on day of visit). Queues can form before this. 
Tickets for Casa de las Dueñas
Book Tickets for Casa de las Dueñas
Guided tours of Casa de las Dueñas
Book Guided tours of Casa de las Dueñas
Address: C/ Dueñas 5, Sevilla 41003. Tel: 954 214 828 
Related pages
Related blogs;
(Almost) royal wedding in Seville 
Destinations