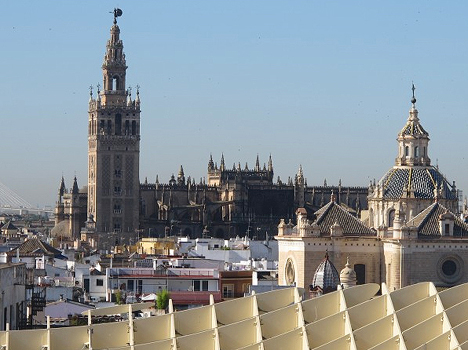 Metropol Parasol
The most ambitious, expensive and controversial urban project in Seville since Expo 92, this is nothing short of a modern icon. Metropol Parasol is located in Plaza Encarnacion: it's at the centre of the city, between the main shopping area to the south and Calle Feria to the north; Plaza del Duque to the west and Plaza Ponce de Leon to the east.
Intended as a Guggenhein Bilbao-type landmark, to put Seville on the contemporary architecture map, this extraordinary, flowing structure (known locally as Las Setas, the mushrooms) consists of six huge linked parasols made of waffle-type criss-crossed wooden beams - it is said to be the world's largest timber-framed structure. Metropol Parasol's trademark amorphous shape can be seen reflected in every detail of the development, from the curvy benches to the sinuous flowerbeds. The parasols, which measure 150x70m in total, took six years to build, and cost a reported 123 million euros.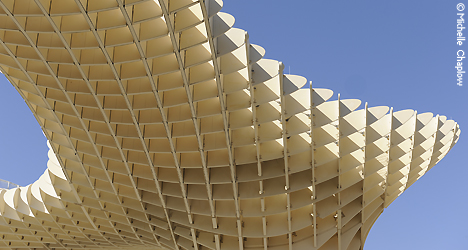 The building serves a number of purposes: an archaeological museum in the basement, Antiquarium, with Roman and Moorish ruins discovered when area was being excavated to build a car park; a food market and restaurants on the ground floor; an open-air shaded concert space on the first floor; and a walkway and more restaurants on the second and third floors. The last feature is the best, offering views of the city from 30 metres up, including a large mirador, viewing area, at the very top of the building. Metropol Parasol was designed by German architect Jurgen Mayer H, and was opened (the main parts, Walkway and Antiquarium) in May 2011.
Walkway opening hours: 10.00 hrs - 14.00 hrs and 18.00 hrs - 24.00 hrs
Entrance: 1.35 euro (free if resident in Seville).

View Metropol Parasol on a larger map
Destinations