backpacking
Seville is unsurprisingly the most touristy destination in Andalucia. The signs are obvious: the shops are open at convenient times; the waiters approach agreeable, and there's the sweet smell of horse manure everywhere you go.
Seville is a must on any Spanish as well as Andalucian tour. The city overflows with the romantic gaiety and theatrical intensity of life synonymous with Andalucian culture. Whilst the wonderful architectural monuments are a must see, it is wandering the narrow colourful streets of the Barrio de Santa Cruz where the real Seville experience is to be had.
See Seville home page.
Accommodation
If you arrive by bus the Barrio Santa Cruz is a short walk away. Here there is a dense concentration of hostels, all of which are within walking distance of the main architectural sights. The area is quiet at night with only a few tapas bars and restaurants staying open late. Head to the centre or across the river for a more lively evening. Accommodation is impossible to find during Semana Santa and the Feria de Avril unless you book months in advance.
See Seville hostals & hostels page

Must See
Cathedral - The biggest Gothic church in the world.
The Giralda - Fine Islamic Architecture - the symbol of the city.
Alcazaba - If you see one castle in Andalucia make it this one.
Barrio de Santa Cruz - Discover the real Seville.
By Choice
Plaza de Espana - Huge Plaza with rather grandiose architecture. Nearby Park offers good spot for relaxation.
Watch out for the Hotel Alfonso XIII and the Fabruca de Tabacos. (Carmen of the Opera worked there)
Avoid
Plaza de Toros - (for guide, in English and Spanish) You are kicked round the bull ring in 15 minutes by a guide who doesn't pause even between alternate languages. If you're going to Ronda visit the bull ring there instead.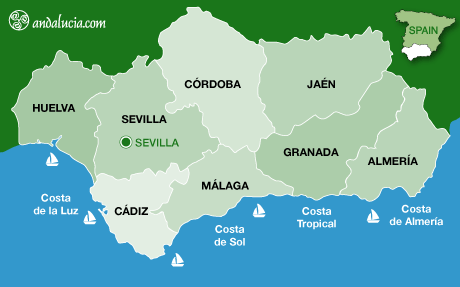 Hover the cursor over Sevilla to see bigger map and click to go to the maps page.