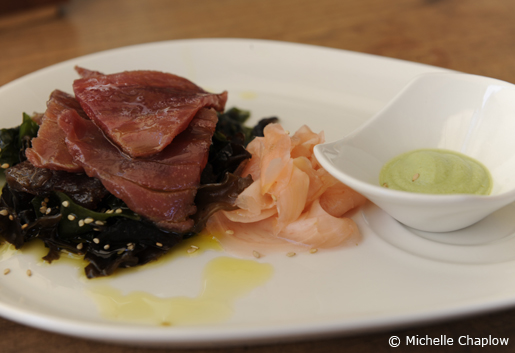 Marinated tuna on a bed of seaweed served with wasabi and fresh ginger at Vineria San Telmo.
food & drink in seville
See restaurants in Seville. More >
Tapas Bars & Cafes in Seville. More >
This historic city attracts food-lovers from all over - it is where the tapa (small plate of food) was invented, after all. You're never far from an excellent meal, whether tapas or large plates to share (raciones), in a traditional tiled bar or a modern gastro joint. Seville is famous for its cuisine, boasting superb seafood platters next to traditional recipes with multicultural origins, such as espinacas con garbanzos (spinach with chickpeas). It's always worth checking the menu or blackboard for specials of the day.
Andalucia has many quality wine regions like Jerez, where sherry is made, the Sierras de Malaga and Ronda and parts of the Alpujarras, so you can often order good local wines.
The best part about food and drink in Seville is the price. Tapas start at 2 euros each, beer at one euro for a caña (small glass - even less in some places), and wine at 2 euros a glass. The more avant-garde tapas bars will charge up to 5 euros for a small dish, but the ingredients and presentation will be correspondingly more sophisticated. In the city you will find ample examples of both type to choose from.
Tapas Tour in Seville

City centre walk along several bars and restaurants to taste a mix of modern and classic tapas. The tour is available daily at 1:00 pm with English speaking guide and lasts two and a half hours.
38.50 € per person