Tapas BARS and cafes
Tapas in Seville is like coffee and croissant in Paris - it's a key part of life and integral to local culture, both gastronomically and socially. Ir de tapeo - to go on a 'tapas crawl' - is how most Sevillanos spend their evenings out.
The selection and quality of food are both invariably superb, you can eat as little or as much as you like, and you can usually find somewhere serving food, whatever the time of day. The seafood and ham are especially good here.
In this section, we also include cafes and ice-cream bars.
If you want to make you own lunch - salad or sandwich, smoothie or wrap, check out one of these cafes.
Tapas Tour in Seville

City centre walk along several bars and restaurants to taste a mix of modern and classic tapas. The tour is available daily at 1:00 pm with English speaking guide and lasts two and a half hours. 
From 38.50 Euro per person

Tapas Tour Triana
Traditional tapas in the authentic and artistic neighborhood of TRIANA, across the river Guadalquivir which separates historic Seville in two. Triana is the birthplace of Flamenco dance style and according to some also of the world famous tapas.  
Approx. 2hrs 30mins -  44.50  €

Read our guide to Tapas tours in Seville
There are hundreds of tapas bars in Seville, on main streets and tucked away in little side alleys; good grazing areas include Alfalfa; Calles Mateas Gago and Santa Maria la Blanca in Santa Cruz; the Plaza San Salvador end of Tetuán; and San Eloy/Plaza del Duque.
Note that in some tapas bars you have to order at the bar and collect the tapa yourself when it's ready (usually in a matter of minutes), while at others you'll have the option to sit at a table and be served by a waiter - and may be charged extra for privilege. In addition, be aware that some tapas bars and restaurants have terraces where you can only order larger portions - check before you sit down.
A tapa will generally cost between €2 and €5.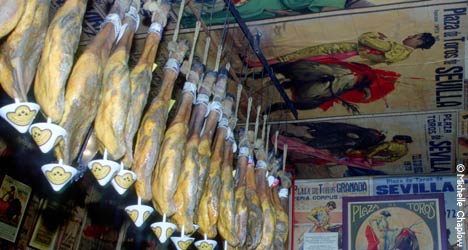 Tapas Bars & Cafes in SANTA CRUZ
La Giralda
Mateos Gago 1
Arguably one of the best tapas bars in Seville, with delicious dishes such as solomillo al whiskey (beef sirloin in whisky) and the divine pimientos del piquillo con musselina de bacalao (red peppers stuffed with cod), plus a good selection of sherries Beautiful interior with vaulted ceiling, while the tables outside have a ringside view of the Giralda. Very efficient service and reasonable prices considering the quality. Recommended.
Service with a smile at a Seville tapas bar.
Las Teresas
Santa Teresa 2
In the heart of the barrio's windy cobbled streets, this place is decorated in traditional style, with hanging hams (beware veggies; these are actually above your head rather than behind the bar as normal!), antique posters of Seville and bottles of vintage sherry. Plenty of tables outside to watch the evening paseo (stroll). Excellent cured meats from Huelva and Salamanca.
Bodega Santa Cruz
Rodrigo Caro 2
Known locally as Las Columnas because of the massive stone pillars outside, this has a great selection of montaditos (small toasted sandwiches) and famed adobo (marinated fried fish). A good snack stop on your walk around charming Barrio Santa Cruz. It's cheap, the food's tasty and the service is speedy - no wonder it's a local institution.
Cafe Levies
San José
A very popular café-bar with friendly service, this place is a good all-day option - it's open from breakfast until late at night. There's seating in the pleasant café-style interior, or outside in the plaza. Recommended are the spinach croquettes and the chipirones a la plancha (grilled baby squid). Gets lively later on; handy for the nearby Carbonería (see live music).
Vineria San Telmo
Paseo de Catalina de Ribera, 4
Vineria San Telmo is an excellent tapas bar and restaurant in barrio Santa Cruz, with a lovely terrace overlooking the Jardines de Murillo.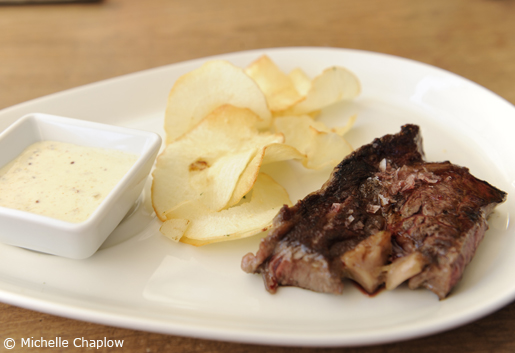 Argentinian beef with sweet mustard sauce at San Telmo.
Situated on the edge of the old Jewish quarter, this restaurant has a varied menu, with plenty of tapas and platos to choose from, covering traditional Andalucian dishes (huevos rotos) as well as more avant-garde tapas (carpaccio de gambas). The Argentinian owner, Juan, knows his wine, so the list is good, and he's also a
sherry
fan.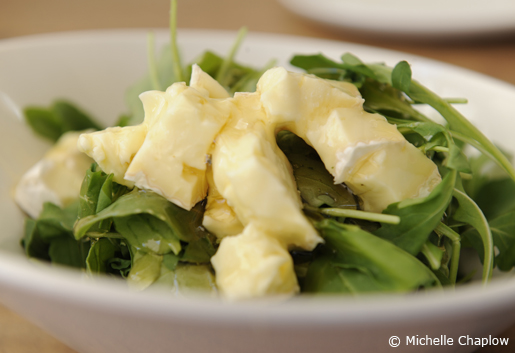 Rocket salad with brie and honey at San Telmo.
The Vineria has some of the best home-made puddings in Seville (courtesy of Juan's wife, Reyes), including sublime three-chocolate mousse cake and lemon meringue pie. All the lipsmacking cakes and tarts set out on a covered stand, so can eye them up yourself before choosing.
Service is efficient and friendly; all the waiting staff speak English. The restaurant is open every day.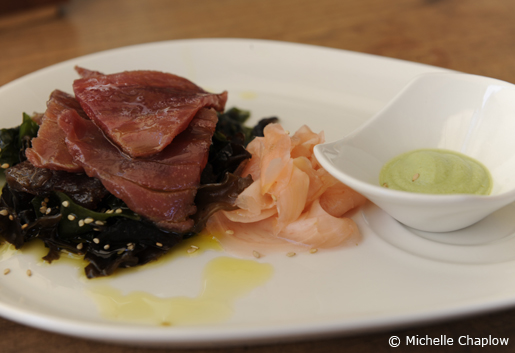 Marinated tuna on a bed of seaweed served with wasabi at San Telmo.
Tapas Bars & Cafes in ALFALFA
La Habanita
Golfo 3, off Pérez Galdós
Great mojitos and caipirinhas, outdoor seating in a leafy side street and excellent Cuban/Spanish veggie and vegan tapas make this place just off the main Alfalfa drag well worth a visit. Try the couscous and arepas.
Bar Alfalfa
Corner of Alfalfa and Candilejo
Small but lively bar with campesino décor, serving Italian/Spanish tapas (the owner, Gianni, is Italian) such as fabulous bruschetta and provolone al horno (baked cheese) plus funky tunes. Interesting mix of clientele.
Sopa de Ganso
Pérez Galdós 8
Buzzy place with huge list of tapas, including vegetarian options. Good croquettes of goat's cheese and walnuts (croquetas de cabrales y nueces) as well as decent (Spanish-style) salads.
Milk Away
Perez Galdos 32
Cafe in the Alfalfa, popular with students. Great choice of ingredients for salads, wraps, juices and smoothies. Non-dairy, vegan and gluten-free options.
Bolas
Calle Tarifa 4 
With branches around the city, this ice-cream parlour next to Salvador church, with its distinctive blue façade, has all the fruit flavours you'd expect plus a variety of chocolate ones (including dairy-free) and some historically-inspired tastes: La Medina has orange, ginger and cinnamon.
TAPAS BARS & CAFES IN THE ARENAL
La Teteria de la Sultana
Mercado del Arenal Puesto 38, Pastor y Landero.
Friendly tea room inside Arenal market with myriad blends, from fruity to medicinal, including organic and fair trade. Also good homemade cakes.

Puro e bio
Paseo de Colon 9
Organic ice-creams like ginger and cinnamon or dulce de leche (caramel), as well as ice-cream cookie sandwiches. Two locations, on Paseo Colon near Triana Bridge, and Calle Asuncion, in Los Remedios.
Tapas Bars & Cafes in the CENTRE
Filo 
Hernando Colon 19
This place is popular with students, especially the Hernando Colon branch, between the cathedral and Plaza Nueva, and has cool rustic-chic decor. Visitors exploring barrio Santa Cruz will find the Puerta de la Carne one handy for a stop-off after wandering through the maze of streets. Impressive menus of salads, wraps, bagels, juices, smoothies etc. Try the mango chicken curry sandwich.
La Campana
Sierpes 1
This café is an institution in Seville, serving all the cakes and pastries beloved by locals as they enjoy a pit-stop after a hard morning's shopping. During Semana Santa you can get coloured Nazareno sweets (the penitents wearing long robes and hoods) which make a fantastic, if bizarre, souvenir. Otherwise traditional goodies include yemsa (sweets made from egg yolks) and lenguas de almendra (almond biscuits).
Cafetería Universal
Blanca de los Rios 1 (near Plaza del Salvador)
Excellent, affordable tapas with good-sized portions in a handy location near the main shopping area. Sit at the bar, by the window or outside. Good vegetable pasteles (terrines) and caldereta de venao (venison stew).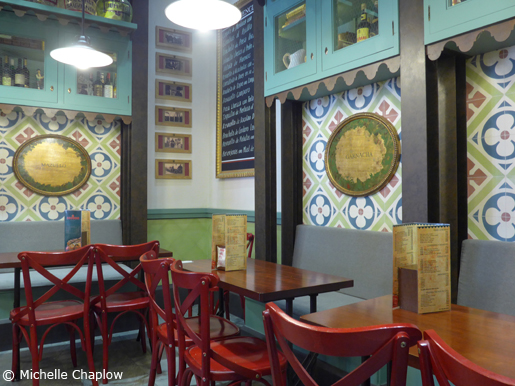 Tapas restaurant in Seville.
Tapas Bars & Cafes in PLAZA ENCARNACION/PLAZA DEL DUQUE
El Rinconcillo
Gerona 40
Allegedly the oldest tapas bar in Seville, dating from the 17th century. It certainly feels like nothing's changed in many years, with its flagstone floor and ancient bottles of wine lining the walls. Very atmospheric and popular with locals and tourists alike. Go for the traditional favourites - ham and cheese.
Coloniales
Plaza del Cristo de Burgos 19
Pleasantly located on the recently revamped Plaza Cristo de Burgos, this place does reasonably-priced tapas including tabla (bread baked with a topping, such as cheese or fish - better than it sounds) as well as grilled fish and meat.
La Giganta
Alhóndiga 6
The speciality here is tabla, flat bread with a topping. Try the delicious queso gratinado con miel y romero (bread topped with cheese, honey and rosemary - very Roman!) or bacalao ahumado (smoked cod) for between 5 and 8 euros. Tapas of the day might include costillas a la miel (spare ribs in honey) or lomo a la cerveza (pork sirloin in beer).
Cocome
Taraifa 4
One of a growing number of make-your-own sandwich, smoothie and salad bars, where you can put together your own cereal (muesli, granola, yogurt, fresh fruit etc) or salad bowl (grain base plus veggies); sandwich (meat, fish, salad) or smoothie (fruit, veg, plus seeds). Simple, unfussy interior and very friendly, helpful staff.
Tapas Bars & Cafes IN THE ALAMEDA AND MACARENA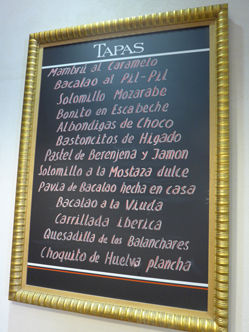 Meat, fish and vegetarian tapas in a Seville bar.
Eslava
Eslava 3-5
One of Seville's best and most popular tapas bars, this place just off Plaza San Lorenzo is permanently packed. It does a range of good, inexpensive tapas - try the salmorejo and honey-glazed pork ribs.
Antojo
Calatrava 2
Lively tapas bar with big windows looking onto this popular tapas street, which leads from the Alameda to the river and the Barqueta bridge (designed by Santiago Calatrava). Tasty dishes include leek gratin, chicken satay, and mini ox-burger. Open all morning and lunchtime as well as dinner during the week, lunch and dinner only at weekends.
Duo Tapas and Sidonia
Calatrava 10 and 16
Excellent, simple tapas bars with the same owner, on Calle Calatrava, at the Alameda end. Both offer tasty, well-priced tapas - the risotto and pork cheeks are good. Duo Tapas has a huge outdoor terrace, so perfect for groups on warm evenings. Gluten-free options.
Kök Tu Cocina
San Luis 46
Brunch isn't really a thing in Seville (or Andalucia), so this place is a one-off here. Pretty tiered cake stands are piled with homemade bread and jam, cheese, yoghurt and other goodies. Décor is homely and quirky.
Freskura
Calle Vulcano 4
On the hip-and-happening Alameda, this gelateria has typical Italian flavours such as pistachio, limoncello, and cremino (mascarpone, hazelnut and cocoa), as well as mini-desserts and fruit ice lollies.
Tapas Bars & Cafes IN TRIANA
La Comidilla
Callao 1 
This friendly neighborhood tapas bar, located on a plaza next to Triana market, is perfect for lunch with friends. You can have great salads, fried fish, superb tuna tataki, and the décor is delightfully quirky with old advertisement plaques, though you'll want to be outside on the buzzy terrace if at all possible. Ask about daily specials.
Sol y Sombra
Castilla 151
Cosy bar with friendly atmosphere and bullfighting memorabilia on the walls. Specializes in appropriately meaty tapas including garlic-roasted beef and revueltos (scrambled eggs) with meat. Good wines.
Tetería Chefcahouen
Pureza 22
This cosy Moroccan-style tea house is decorated in soothing tones with lots of floor cushions, rugs and low lighting. If you need a change of scene from bright, noisy, tiled tapas bars, this is the place to come. Recline in comfort with an exotic tea served in a pretty tea glass. Perfect for a good, long chin-wag.
El Faro de Triana
Puente Isabel II
With one of the best views in the city, right on the bridge (known locally as the Puente de Triana), this former lighthouse (faro) has good, cheap tapas and huge glasses of beer and wine. Excellent gambas (prawns) and habas con jamon (ham and broad beans). Try to get a table on the terrace upstairs.
LONJA DEL BARRANCO GOURMET MARKET IN SEVILLE
This market is located in a beautiful riverside glass and iron building designed by Gustave Eiffel (think Tower in Paris). You  can enjoy dishes from 20 stalls in the market - gourmet tapas and pinchos, rice, Mexican, sushi, seafood, cheese, and cold meats. Plus, naturally, local Sevillano beer and wine. More>
Destinations