Lonja Del Barranco Gourmet Market in Seville
This market opened in November 2014, in a beautiful riverside glass and iron building designed by Gustave Eiffel (think Tower, Paris). The wide variety of foods you can enjoy at 20 stalls in the market embraces gourmet tapas, rice dishes, sushi, seafood, cheese, and cold meats. Plus, naturally, local Sevillano beer and wine.
The Lonja del Barranco building, built in 1883 shortly after the Puente de Triana next to which it sits, was previously used as a fish market (lonja). With glass walls and high ceilings, the market is a delightfully airy and light space, also helped by the pleasant off-white colour scheme. Complementing the elegant original 19th-century steel structure - it was considered a cutting-edge modern building at the time of construction - well-chosen contemporary lighting adds to the dramatic effect.
The company which set up and runs the market is partly owned by Fran Rivera Ordoñez, bullfighter and ex-son-in-law of the late Duquesa de Alba, and Almerian journalist Carlos Herrera.
The market has 20 puestos (stands/stalls), of which 18 were open as of December 2014. You can eat everything from the finest local jamon iberico and seafood to gourmet croquettes, salmorejo and octopus.
Seating is available in a number of areas: inside the market - along the river-facing and street-facing walls, and next to the Cruzcampo bar; and outside, on three terraces - a long, narrow one behind the market facing the river, where you can order directly from the stalls; a small one to the north side; and a larger one to the south of the market, next to its main entrance by the Triana bridge, with prettily shaped bouganvillea plants. The large one has shades in summer, with heating in winter.
Most food is available either as a tapa (small plate) or racion (large plate).
Food
Fish and seafood
Distribumar Following the Lonja's heritage, this stall has a wide array fresh fish and seafood from the nearby Huelva and Cadiz coasts, which can be served fried.
Mushi Sushi Japanese-style raw fish with an Andalucian-Sevillano touch.
Pulpería. Galician octopus - stews, empanadas and kebabs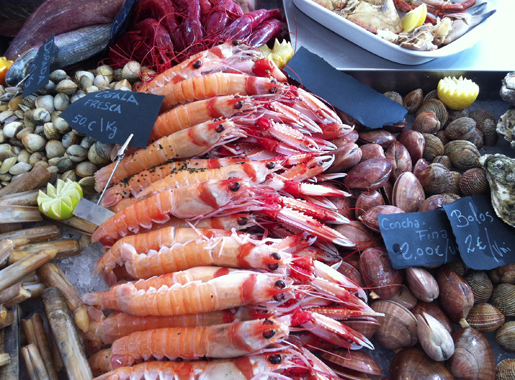 Seafood at Distribumar Marisquería. © Fiona Flores Watson
Meat
Charcutería Selecta. The best charcuterie from acorn-fed Iberian pigs - jamon iberico, chorizo and other pork goodies.
Mascarpone Excellent freshly-made ice-cream, with seasonal flavours such as rebujito for the Feria.
Poncelet Cheese Bar Cheese from seven countries, boasting an impressive cheese larder.
Various
Andalucía. Gourmet tapas.
Arroz&Co Rice dishes such as paella, and seasonal specials, as well as fideua (short thick noodles, usually served with seafood).
La Burratina Based around buffalo mozzarella cheese made in Mijas, such as bruschetta with rocket and sundried tomatoes.
Cambados Restaurante & Tapas Classic Sevillano gastronomic fare.
La Croquetería Offers various flavours of croquette, including jamon serrano; spinach, mushroom, and truffle; and bull's tail. By Alberto Soto of restaurant Bodega Cepa 21.
Dame la Lata Following the trend for abacerías, which sell bottled and tinned goods - vegetables, legumes, fish and meat - this stand makes up cold and hot tasty treats using tins (latas); you can also buy to take home.
Échale huevos a las papas. Dishes using six types of organic eggs and 12 varieties of potatoes - such as patatas bravas and fried eggs.
Peggy Sue's Grill Gourmet versions of classic American food such as burgers.
La Salmoreteca Also in the Mercado de la Victoria in Córdoba, this stall offers unusual types of salmorejo, a thick, smooth Andalucian chilled soup traditionally made of tomato, such as black squid ink, sweetcorn, and avocado and plankton. They are topped with a variety of toppings from the standard - jamon and chopped boiled egg, to the less conventional - ceviche, grated caviar and "ashes" of cheese (look strange, taste delicious).
Drinks
Alberto y Vino Wine bar by Bodegas Izadi, three-Michelin-star restaurant Zaldiran in Vitoria, and two Madrid restaurants called Patio del Fisgón and la Contraseña. This has 52 wines, with 14 offered at any one time.
Cervecería Serves Cruzcampo Origen beer, made in the factory on the other side of town, and drunk within 24 hours of being produced. The market has eight 500 litre tanks.
Coctelería Offering the latest trends in the art of cocktail making.
ADDRESS AND OPENING HOURS 
Calle Arjona, Seville (next to Puente de Triana). Phone: 954 220 495 
Open Sunday to Thursday, 10am to 12 midnight, Friday and Saturday 10am to 2pm.