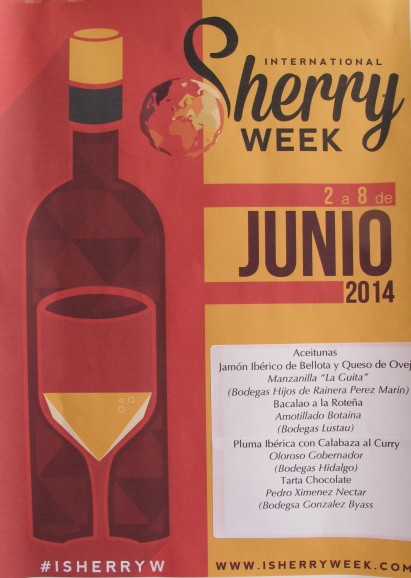 Our sherry and tapas menu at Vineria San Telmo for International Sherry Week, which has over 1100 events in 22 countries until 8 June.
International Sherry Week is the brainchild of
Chelsea Anthon
, an Australian marketer who lives in Vejer de la Frontera. Organised by Chelsea and a dedicated team of sherry-lovers and official Sherry Educators, this worldwide celebration of wine from Jerez and surrounding area, features a staggering 1900 events (and counting) in 21 countries, including nearly 70 in Spain alone.
The idea of ISW is to introduce people to this little-known fortified wine, around which many untruths linger: that it's only to be drunk at Christmas, that it's always sweet, that it doesn't pair well with food.
Sherry
comes in
seven types
, from light-coloured and bone dry, to dark and sweet. It's a highly versatile wine which goes beautifully with all different types of food, from cheese and ham, to main courses like fish and meat, as well as desserts.
I haven't made it to the centre of the action, Jerez, but here in Seville I was lucky enough to sample a four-tapa, four-sherry menu at a restaurant called Vineria San Telmo. Situated on the edge of Barrio Santa Cruz, it is well-known for its excellent wine list and superb desserts (rare as hen's teeth here in Spain). My tapas-and-sherry tasting menu lunch companions, both knowledgeable food bloggers, both agreed that four sherries was a good number - too many more and it becomes hard to appreciate the distinctions between the different wines.
Sheep's cheese with jamon de bellota - our first tapa.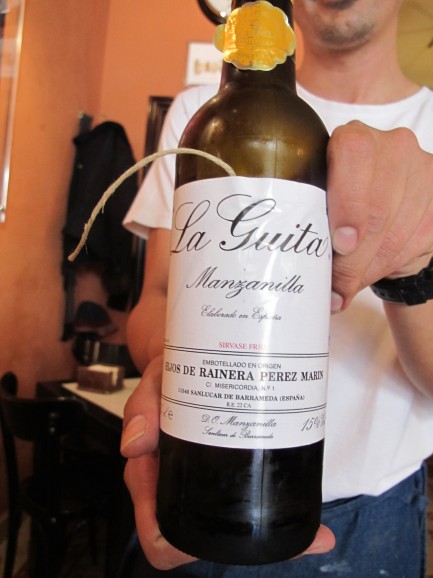 La Guita manzanilla, sherry from Sanlucar la Barrameda, accompanied our first tapa.
Our first tapa, of four, was sheep's cheese and
jamon iberico de bellota
, the finest cured ham (as a non-meat eater, I had more cheese, which was wonderful, with a strong, smooth flavour). The sherry which accompanied this was a
manzanilla
, a type of sherry only made in the seaside town of Sanlucar la Barrameda, and usually drunk at
ferias
. The salty-sharp sherry went beautifully with the rich cheese, the acidity cutting through its oiliness.
Our second tapa: cod a la roteña (a tomato and red pepper sauce) with baby roast potatoes.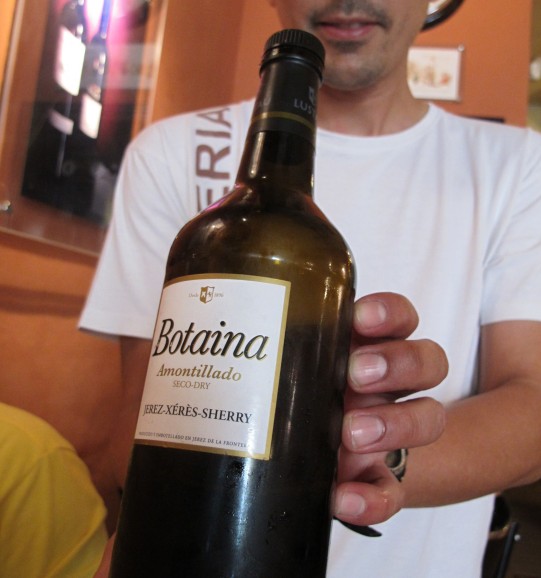 This was our second sherry, Botaina, an amontillado by Bodegas Lustau.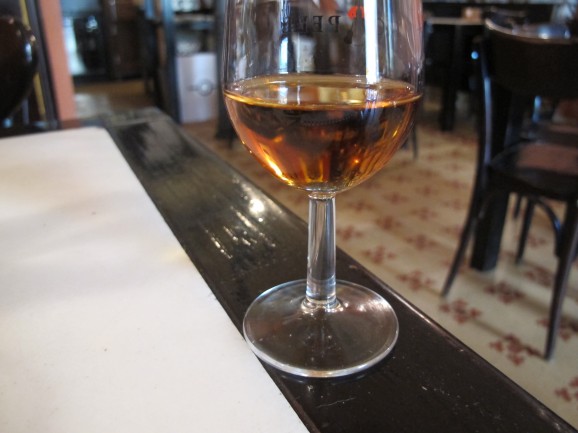 I loved the pinky-amber colour of this sherry, almost as much as its flavour.
After our starter-tapa, we moved on to the fish tapa - cod in a Roteña sauce (tomato and red pepper) with baby roast potatoes. The portion was generous-sized, with delicious chunky fish and crispy spuds. The amontillado sherry which was paired with it was not as light as the manzanilla, and had enough body to complement the fish. The colour was exquisite, an amber-rose shade.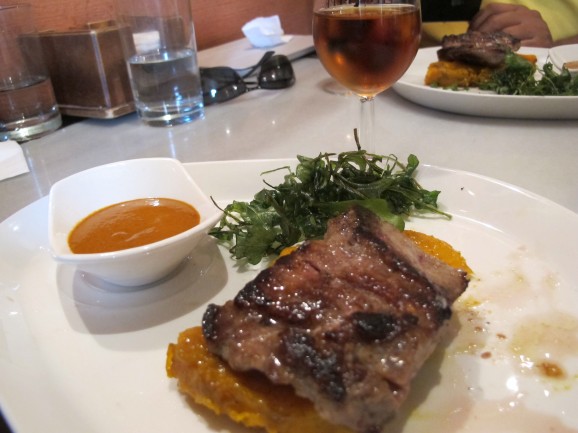 The third tapa: Pluma iberica (pork) with pumpkin and a curry sauce.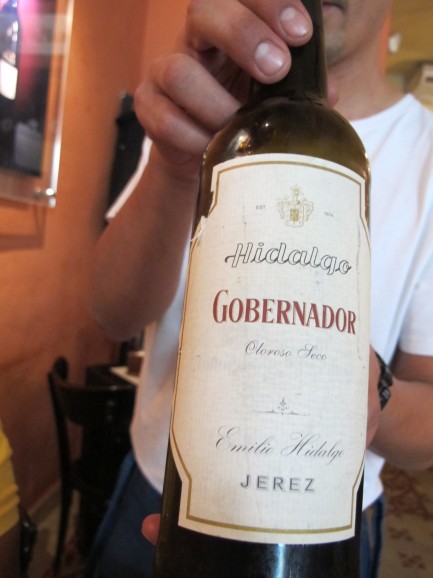 Gobernador oloroso, our third sherry - darker but with a strong flor flavour.
Then it was onto the meat tapa, which was Iberian pork with a curry sauce (though it tasted more like paprika to me). This was matched with an oloroso (Gobernador by Bodegas Hidalgo), a darker-pink sherry with a fuller flavour resonant with
flor
, the yeast that collects on the surface of the sherry. My veggie alternative was mushrooms with fried rocket, which was fabulous - a complex flavour and robust texture.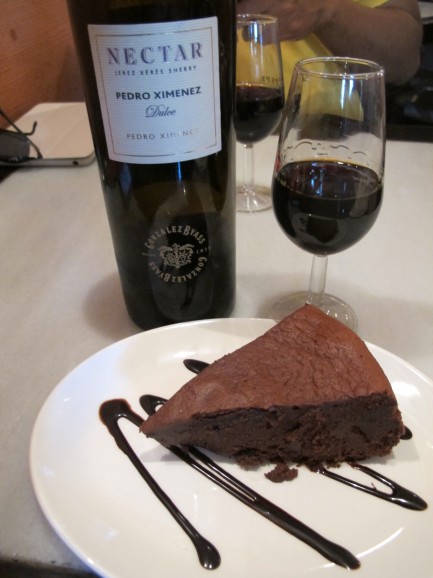 Chocolate cake with Pedro Ximenez sherry.
And finally, our final tapa of four: dessert. One of the many reasons to come to Vineria San Telmo, apart from the terrace which is opposite the Jardines de Murillo, and the excellent service, is the puddings. Made by Reyes, the wife of owner Juan, they are in another league from all other puds in Seville. Her chocolate cake is gluten-free, and manages to have a light mousse-like texture with a heavenly chocolate taste. With this, we drank Pedro Ximenez, the darkest and sweetest of the sherry family - this was Nectar, by Bodegas Gonzalez Byass, who also make Tio Pepe, the most famous
fino
sherry. Its flavour is of raisins, which of course marry extremely happily with chocolate.
What a spectacular meal - excellent food with exquisite sherries, often ones that you wouldn't have thought of matching as they were on this four-tapa, four-sherry menu. A superb way of discovering how well sherry goes with so many foods. Bon appetit!
The special International Sherry Week
Seville Sherry & Tapas Tasting Menu
is at Vineria San Telmo, Paseo Catalina de Ribera 4, Seville, until 8 June, and costs 25 euros.