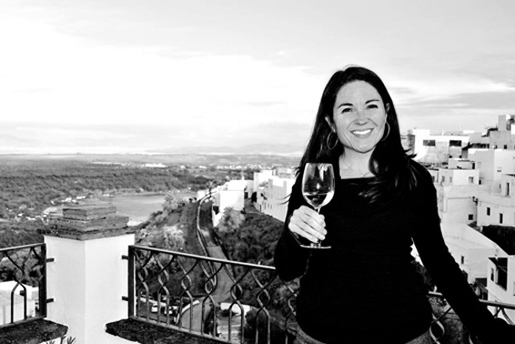 Chelsea Anthon Penas in Vejer
SAVOURING SHERRY
Where did you have your first glass of sherry, and how have you learned so much in such as short space of time?
Last December, I was at a friend's house in Vejer, and she offered me some sherry. I said no, that I didn't like sweet wine, but Annie gave me a glass of chilled fino, with some payoyo cheese and anchovies, and I was immediately won over. It was like a bomb blast – I couldn't believe it was sherry. Annie, who runs cooking courses in Vejer, is passionate about sherry. She explained to me where it is made - in the Sherry Triangle - she had maps on the wall of her kitchen. A few weekends later, my husband and I went to visit a bodega in El Puerto de Santa Maria, one of the three towns in the Sherry Triangle. I wanted to know what sherry was, and why I hadn't heard about it!
Since then I have visited many bodegas and talked to the owners and oenologists (wine-makers) – they're all very generous about sharing their knowledge, and I learn something new in every one I go to, about how they make their sherry or about the customs and traditions of each town and its industry. In addition, how the climate affects the sherry's taste - the winds, poniente (westerly) and levante (easterly), have an influence on the flavour in the coastal towns, whereas this isn't the case in Jerez. Even where the barrel is located in its row in the bodega – middle or end, nearer the wall, can make the sherry taste different.
Have you always been interested in wine?
I've always loved wine and visited lots of Australian wineries, but purely as a wine-lover and enthusiast. My interest in how it is made has only come about since being introduced to sherry. The solera criadera system is so unique in terms of the fractional blending and the magical flor (yeast). When I first saw the flor I was a bit disgusted - I remember tasting straight from the barrel and the wine was filled with floaty stuff, so I was hesitant to try - but when I did, it felt like butter in my mouth, and the depth of the wine was so memorable and cleansing that I became curious about this flor.
How did you end up living in Vejer?
After we got married, my husband Michael and I decided to leave Sydney to go and live in Barcelona for a year. I had been coming to Spain every two years, ever since my Dad (who was Spanish) died when I was 20 years old. I would save up my money and holiday time to visit his family in Galicia and San Sebastian. Before he passed away I had never met any of them; my Dad never spoke to me about his country or his life here, although he always said he would bring me here one day. I also travelled to the south – I loved Granada and Seville, and visited Jerez and Cadiz, although I didn't try sherry. When I was travelling, I made a note in my diary saying "I'm going to learn the language and come and live here." And, years later, I did!
Soon after we arrived in Barcelona, Michael was offered his dream job in Stockholm, so we went to live there for three years. I wanted to keep up my Spanish while we were in Sweden, so I did classes at the Instituto Cervantes, and my teacher told me I should visit the little town in Andalucia where he was from - Vejer. Then my mentor, who is from New Zealand but lives in London, told me I needed a break, and that I could borrow his house – which was in Vejer (and he knew my Spanish teacher too). A strange coincidence. So in July last year we came here to Vejer to stay for two months on our way back to Sydney, having already sent all our stuff back – and we're still here! We sold our house in Australia, gave up great, well-paid jobs, and decided to live with just the basics.
Can you explain why you love Vejer - what is its charm?
Vejer is totally enchanting – it has a depth to it that I've not felt elsewhere in my life, and I've travelled a lot. The community is welcoming and non-judgemental - from day one I immediately felt accepted and embraced. Nothing is a problem for anyone, the kindness I have been shown makes me feel unworthy sometimes.
Plus the views are spectacular, the air delicious, and the restaurants and bars offer a great variety of local cuisine -and Jerez is only 45 minutes away! It used to take me an hour and a half to get to work in Sydney, so going to Jerez every other day is a dream.
How did the idea for International Sherry Week 2014 come about?
World Sherry Day 2013 was designed to introduce more people to sherry by organising events in bars and restaurants in many countries, pairing different sherries with local dishes; in the end, we had a fantastic response, with 300 events in 30 countries taking place during the week around 26 May. Some bars couldn't hold events on the actual day, and they thought that meant they couldn't take part, so it had to be opened up to the whole week, 20-26 May. For next year, it made sense to make the event a whole week officially. The Spanish find it hard to say the word "World", so we changed it to "International" to become International Sherry Week.
How will you spread the word about ISW, and how important is Social Media in organising an event like this?
World Sherry Day was all organised through Social Media in the space of four months, so I will be using that again. Now I also have a network of contacts around the world - in Russia, Brazil, Mexico, the UK, the US, Canada, Japan, and of course Spain, whom I met on my Sherry Educator course in Jerez in September.
Social Media is key – that's how I contacted people last time – there was no budget, so I got on Twitter and Facebook. Soon I'm going to do my own tweeted tastings, and also live-streamed online video tastings. You register, get tasting notes, and watch the tasting while using your own bottle.
My first in-person sherry tasting will be in Vejer in December, at a bar called Viña y Mar, which has 30 sherries by the glass. In January I'll be doing an online tasting at a bar called Catavino in Sydney – it's Australia's first sherry bar. That will be my test for an online tasting, and it will be live-streamed like the Finos Palmas launch which Tio Pepe did in November.
How important is Jerez winning European City of Wine 2014?
Very important – it's a distinction which is awarded to a different country each year, with separate regions or cities in that country applying. Jerez already has a colourful cultural calendar where sherry features strongly, starting with the Feria de Jerez flamenco festival in March, then the Feria de Caballo in May, and the Vendimia (Grape Harvest) in September, so this will give all these events an extra boost.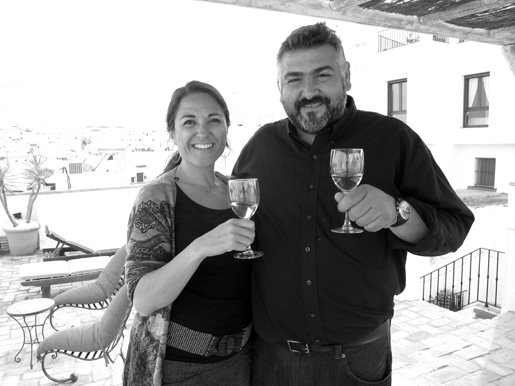 Chelsea with Frank Camorra- famous Australian chef and restaurateur who will be the official International Sherry Week Ambassador for Australia
Do you consider yourself a foodie? Has your attitude towards food and eating changed since you came to Spain?
Yes, I am a foodie - I'm a Taurus and I love my food. My eating has completely changed here in Spain - I eat what's in season, which I've never done before, and I've learnt how to cook with the most basic ingredients to create delicious meals. Fish has become a huge part of my diet, being near the coast here in Cadiz. I used to be terrified of ordering a whole fish, as I couldn't cope with the head. Now I eat boquerones (anchovies) whole - head, spine and all! I always used to eat lunch at my desk, but now I savour what I'm eating and love the importance placed on la hora de comer (meal times).
What's your next sherry learning experience?
Maridaje - pairing sherry with food: I want to understand why certain sherries go better with certain foods than others. For example, artichokes and asparagus, which are famously difficult to match with wine, go perfectly with amontillado – why is that? On my Sherry Educator course, we tried blue cheese with palo cortado. I had always assumed you drank red wine with cheese, but Beltran Domecq, president of the Consejo Regulador showed us that combination on the Sherry Educators course - it was amazing. Sherry is one of the most versatile wines.