POST BY AUGUST'S SPECIAL GUEST BLOGGER: KIM CAUSIER
Since I've been living in Seville, eating has become my favourite pastime. It is not just a means of nourishing oneself here, it's a way of life - it's about meeting friends and family, and spending hours tucking into plate after plate of succulent treats. Come rain or shine, there is nothing that I prefer to do here in the capital city of Andalusia. And now that the sun has got his hat on every day, it's the ideal time for heading for cooler climes to enjoy some of the region's finest foods. Do as the Sevillanos do, and head to the beach – well, more specifically, to a
chiringuito
.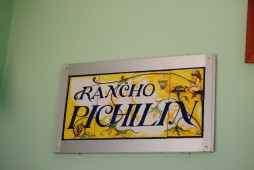 There is one that has particularly impressed me: El Rancho Pichilín, near
Matalascañas
. It's a little tricky to get to, but this makes the treat at the end even more rewarding. Access can be gained either by parking near the Rocio Playa
campsite
, or by walking around 2 km along the Matalascañas beach. The latter maybe the easier of the two, as from the campsite access, there is quite a trek down a sandy slope (and climbing back up is not something to look forward to, especially after a feast of
mariscos
washed down with wine or beer).
A family-run
chiringuito
, Rancho Pichilín is so hidden away it's even pretty unknown to the locals too. From the slope on the way down, you wouldn't imagine that it is an eating establishment: there's nothing to indicate its restaurant status, no bells or whistles like signs. It simply is what it is, but it serves the freshest fish you can imagine and has a never-ending view of blue skies and sea.
They do offer a menu with the dishes that are always served, for example,
tomates aliñados
(tomatoes with garlic, drenched in vinegar and olive oil), chips, fried eggs and green peppers. However, it's always best to ask the owners what is available on the day, since it depends what the fisherman, father of the family, managed to bag in his net and bring back that morning. Be sure to try the
choco
(cuttlefish) – I can guarantee that it will be the biggest that you have ever set your eyes on, and during the summer months (those that have no "r" in Spanish) order plenty of
sardinas
(sardines). If you are a fish fan, you will definitely have a feast, and you will be surprised to how reasonably priced it is.
The best thing about eating so much at Rancho Pichilín is that you can stagger down to the beach afterwards and have your post-prandial siesta in the sun (although the shade might be more sensible, considering how fierce the rays are of an afternoon). The beach is one of my favourites in Andalusia, as it is not towered over by hotels, apartment blocks and holiday villas, but overlooked by natural, golden cliffs and mushroom-like lush green pines. And since it is on the elongated stretch between the overpopulated Matalascañas and
Mazagón
, which are jam-packed with towels, parasols and families of Andalucians sunning themselves, you have a much wider choice of where to lay yourself.
Kim Causier lives in Seville, where she is currently working as an in-house translator. Like many expats, she has a passion for Andalusia's language, food and culture, and enjoys writing about her experiences on her blog, Becoming Sevillana.