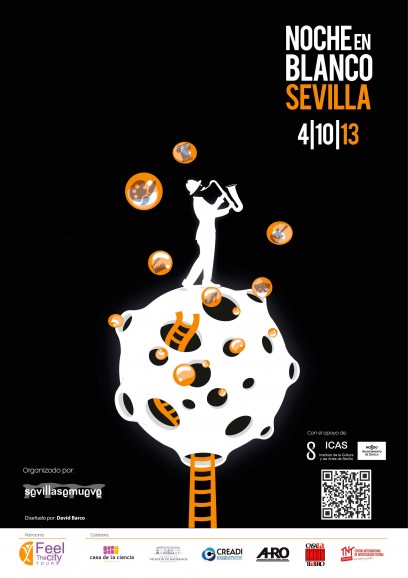 Noche en Blanco is a night of cultural events and activities on Friday 4 October
Tomorrow night, Friday 4 October, is Seville's second
Noche en Blanco
. With around 50 institutions, monuments and shops taking part, it promises to be bigger and better than
last year's event
.
From 9pm till 2pm, you can visit a wide array of places, of which we have highlighted a few here. For the full programme, see
this page.
Nearly all events are free of charge.
Fundacion La Madariaga
- art exhibition and fashion shows. Between the river and Parque Maria Luisa, this was built as the American pabellon for the
1929 Expo
.
Casino de la Exposicion
, also an Expo 29 pabellon, is showing photos tracing the history of Spanish cinema.
Wabi Sabi
- this gallery and shop, near the Setas, has a presentation by Spanish writer Cristina Martin, who has written a book about the secretive and powerful Club Bilderberg.
Baños de Maria Mora
- visits to recently restored Moorish baths, in barrio San Lorenzo.
Palacio Marqueses de La Algaba
- this palace behind Feria market, which houses the Mudejar Museum, hosts a dance show, music recital and a film.
Guided visits to the
Centro de Interpretacion de la Juderia
, Antiquarium (the
Roman remains
under the Setas), the
Casa Consistorial
(original 16th-century town hall building, inside the current one), and
Castillo San Jorge
, seat of the Spanish Inquisition, with theatrical visits,
musica coral para alejar los malos espiritus
(choral music to drive away bad spirits!), and an interactive performance in "the labyrinth of history".
Pabellon de la Navegacion
- three short theatrical pieces
performed over the summer
: Seville puerto y Puerta de Indias (Seville port and gateway to the Indies); Escuela de grumetes (cabin boy school); Un Descubrimiento Diference - about a meeting between Columbus and Queen Isabel La Catolica. This event has an entry fee of 1 euro.
This is a night with an impressive range of activities, so the centre of Seville will be buzzing until the small hours. So far, the weather forecast looks promising - the rain which has drenched us all week will go away, providing some perfectly-timed respite tomorrow evening.