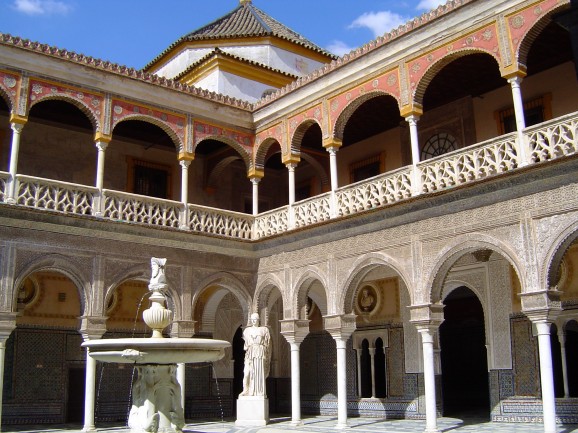 Casa de Pilatos, one of the casas-palacio on the new route in Seville. Photo: Michelle Chaplow
After the excitement of the opening last week of
Las Duenas
, the Duquesa de Alba's palace, a new route in Seville has been announced of palaces and casa-palacios.
Individually, these 23 palaces and grand mansions already represent an interesting variety of magnificent buildings in the city - some are hotels, others already open as cultural centres, and some are privately owned but partly open to the general public. Taken together, however, they offer a collection of such great architectural and historical value that it is being called the "New Rome".
Many of the buildings have several features in common: Mudejar architecture (by Moorish craftsmen, with characteristic intricate plasterwork, but created under Christian rulers); exquisite azulejos - coloured ceramic tiles; arcaded patios with central fountains; and artesonado carved painted wooden ceilings, with Mudejar motifs such as stars. Most date from the 15th and 16th centuries, Seville's Golden age, when riches flooded in from the newly discovered Americas and trade prospered.
The Route of Casas-Palacio in Seville includes the following:
Casa de Pilatos
- one of the most sizeable; like many impressive
palaces
built on land seized during the Inquisition. Already open to the public as part of the Medinaceli estate. In the Alfalfa barrio.
Palacio de los Marqueses de Villapanes -
a five-star luxury boutique hotel
which preserves original features such as the family coat of arms on the grand staircase. In Santa Catalina.
Palacio de los Marqueses de Algaba
- currently the Centro del Mudejar. Behind Feria market.
Casa de los Padilla - 
part of the hotel Casas de la Juderia, made up of a network of patios and small houses. Barrio Santa Cruz, the old Jewish Quarter.
Palacio Arzobispal
- the Archbishop's residence, next to the cathedral.
Palacio San Telmo, 17th century naval college. Photo: Michelle Chaplow
Palacio San Telmo
-
palace
built as a navigators' college for the orphans of sailors, now seat of the Junta de Andalucia's President. Named for the patron saint of sailors. Next to the river.
Casa de las Sirenas
- used to be the naval college before San Telmo. Calle Pureza in Triana.