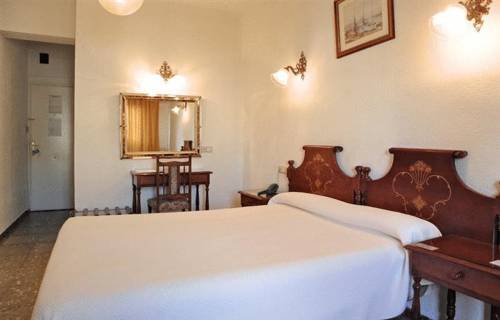 Hotel VITA Embajador
Hotel VITA Embajador

This hotel – one of the city's most imposing, with its seven-storey L-shaped building fronted by impressive fountains - is located at the bottom of La Rambla. The upside of its location is being near the beach, the downside is that it's a bit of a walk from the historic centre. It overlooks the Alcazaba, and is next to Salmeron Park – you get a good view of the Cable Ingles, a century-old industrial pier.
Its 105 rooms and suites have bright, traditional Mediterranean décor (think blue and yellow swirl bedspreads), although some have more contemporary monochrome tones.
One of the only hotels in Almeria city with an outdoor swimming pool, where there's also a terrace bar, with barbeque and cocktails on Thursdays and Fridays in summer; there is also a gym.
Restaurant serving Mediterranean cuisine, and piano bar in the lobby. Business and social event facilities are the best in the city, including simultaneous translation booth and various projectors and screens, with salons and the pool terrace accommodating up to 800 people.
Free WIFI
Underground car park
Preferred hotel for lawyers
Perfect for: swimmers (pool or sea), park-joggers, large-scale business events.

Location
Calle Calz de Castro 4, 04001 Almería