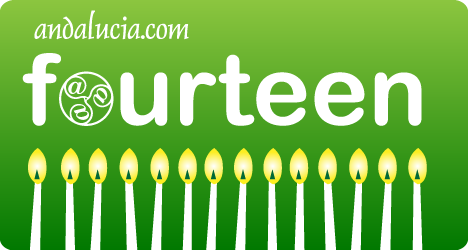 Andalucia.com turns 14 - Happy Birthday!
Andalucia.com was founded on 17 April 1996.
We are proud of the product that we have created - an indispensable guide to Andalucia, market leader in its field with 250,000
unique visitors a month and a worldwide audience of visitors with an interest in one of the most beautiful and fascinating parts of Spain.
We offer clear, concise information about the region for tourists, foreign residents and international investors.
Andalucia.com is staffed by passionate professionals from a myriad of different backgrounds and interests, with one thing in common - all are dedicated to maintaining the high standards that the website's visitors have come to expect. It is this team-based approach which is the backbone for our continued success. Every member of our team has a passion for Andalucia, and we hope that that shows.
We have helped thousands of businesses promote their products successfully worldwide.
Your business can join this elite group too – take advantage of our impressive global readership, and let andalucia.com work to reach your potential customers.
Please don't hesitate to contact us for a no-obligation quote. We have a range of special offers available. Find out how we can help bring your customers to you.