Nerva
Nerva is located 4km east of Minas de Rio Tinto, and its fate has been similarly entwined with that of the famous mines. The mine you can visit as part of the Mining Park, Peña del Hierro, is located within the municipality of Nerva. The village has a population of about 6,000.
History
As well as its mining heritage, Nerva has Roman remains in Las Arenillas; in fact, the village takes its name from the Roman emperor Nerva, who ruled briefly in the 1st century AD. The Cerro del Moro mine was used for silver from the 1st century BC (you can see a fragment of this silver, as well as a carved Carnelian ring found nearby, in the Mining Musem in nearby Las Minas de Riotinto), but mining stopped in the second half of the second century AD.
Some remains were confirmed by mine archaeologists as being from the second century BC. Even further back in history, there is a dolmen, known as La Lancha, where various vessels were found, now also on display in the Mining Museum, plus the Neolithic burial ground of Cistas de la Parritam, west of the village.
The village's more recent history dates from 1885, when it was made into a municipality independent from Zalameda la Real. It reached its peak of inhabitants in 1940, with nearly 15,000.
Things to SEE

Main square
The main square has a noteworthy red-brick Ayuntamiento (town hall) building, which dates from 1893, with a 30m-tall Mudejar-style octagonal tower. The two fountains, Campofrio and Pozo Bebe, both also date from the late 19th century.
Museo Vazquez Diaz
Contemporary art enthusiasts shouldn`t miss the Museo Vazquez Diaz, housed in an interesting modern building. The artist studied in Paris and was a contemporary of Picasso. He painted a series of frescoes on Columbus for La Rabida monastery, and you can see replicas of these displayed in the museum.
Opening Times: Open all year.
Tuesday-Saturday, 11:00-14:00 and 17:00-20:00 (winter) 11:00-14:00 and 18:00-21:00 (Summer).
Monday, Sunday and Holidays, 10:00-14:30hrs  
Entrance is free. 
Tel: 959 58 28 11
Teatro Victoria
The theatre also acts as a cinema which has resulted in an increase in cultural activities. Located on Plaza Reina Victoria.
Plaza del Maestro Rojas
The square has a sculpture of composer Manuel Rojas Tirado, who created the famous pasodoble heard at bullfights. The sculpture was made by local Antonio Calamina. Located on Calle Maestro Rojas.
Iglesia de Jesus Nazareno
The church was built when a new building was needed as a nursing home. Located on Calle Padre Mariana.
Convento de la Hermanas de la Caridad "San Vicente de Paul"
The convent was built to be used as a school and to this day remains a place of education. Also known as the Edificio Inglés (English building) due to its architectural style. Located on Calle Alfonso XII
ART Galleries
Modern and contemporary paintings are exhibited at the Centro Arte Moderno y Contemporáneo Daniel Vázquez Díaz.
Plaza Hijos Ilustres
Tel: 959 58 28 11
Winter, Tuesday-Saturday, 11.00-14.00hrs and 17.00-20.00hrs
Summer, Tuesday-Saturday, 11.00-14.00hrs and 18.00-21.00hrs
Monday, Sunday and Holidays, 10.00-14.30hrs
Entrance free.
OUTSIDE THE VILLAGE
Source of the Rio Tinto
The source of the Rio Tinto river is located in the Sierra de Padre Caro of Nerva. Famously known for its red colour due to minerals containing heavy metal sulphurs, the Rio Tinto runs 100km to the Ría de Huelva, which then merges into the Rio Odiel before flowing into the Atlantic. Located north of Nerva, off the HV-5011.
Cerro Colorao
The Cerro Colorao is made up of large slag heaps of multi-coloured minerals that have accumulated over hundreds of years. This protected area of Corta Atalaya and Cerro Colorado, stretching over 1377 hectares, is the result of high mining activity creating a unique landscape impregnated with tones of red, yellow, purple and aqua-marine. Located northwest of Nerva.
Las Teleras
The word telera is a system for calcination of copper. This system dates back to the 19th century and was used more intensively when British miners arrived, extracting 500 tons a year. The teleras became a problem as from 1877, when activists protested about the vast amount of contamination produced in the area. Located northwest of Nerva, off the HV-5011.
Festivals
Fiestas are concentrated into the month of August, with the town patron on San Bartolome on 24 August, and the town fiesta on 7 August.
Location
To get to Nerva, which is 74km from Huelva, take exit 75 off the A49 towards Trigueros. Then take the N435, and after Trigueros and Zalamea la Real, carry on along the A461 to Minas de Rio Tinto. At Minas, take the A476 to Nerja. This map will show you where Nerva is.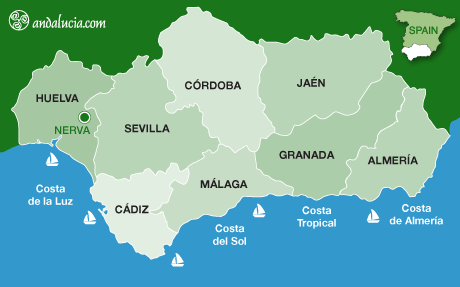 Destinations