Arroz a la Marinera - Seafood Rice
This paella has no chicken or rabbit, but only fish and shellfish.
Ingredients
For the fish stock
Fish head and trimmings plus prawn shells
1/2 onion
2 cloves garlic
1 sprig parsley
2 quarts / 2 litres water
salt and pepper
1 dozen clams or mussels
1/3 cup / 75 ml olive oil
1/2 lb / 250 grams conger eel, sliced
1/2 lb / 250 grams monkfish, sliced
1/2 lb / 250 grams shelled shrimp (prawns)
14 oz / 400 grams squid, cleaned and cut in rings
1 tomato, peeled and chopped
6 jumbo shrimp OR sea crayfish (Dublin Bay prawns) OR a small lobster cut in 6 pieces
1/2 tsp saffron
2 tsp salt
2 cups / 400 grams rice
parsley
lemon wedges
Recipe
Put the fish head and trimmings in a pot with the shrimp shells, onion, 1 clove of garlic, sprig of parsley and water. Season with salt and pepper and bring to a boil. Simmer for an hour and strain the stock. Scrub the clams or mussels, steam them open, discard empty half-shells and strain and reserve their liquid. In a paella pan or deep pan heat the oil and sauté the sliced conger. Turn to brown the other side and add the slices of monkfish. Take out the pieces of fish when browned. Add the shelled prawns and the squid and continue frying. Then add the jumbo shrimp, crayfish or chunks of lobster. Sauté on a brisk fire and remove.
Add the peeled and chopped tomato to the pan. Crush the saffron with the remaining clove of garlic, 1 tablespoon parsley and 2 teaspoons salt. Dissolve in a little liquid and add to the pan with the rice. Combine the strained fish stock and clam juice to make about 4 cups / 1 litre of liquid. Bring it to a boil and add to the rice. Return fish and shellfish to the pan and stir with a wooden spoon to distribute. Arrange the big shrimp or lobster on top. Cook on a high heat for 5 minutes, then reduce heat and cook until rice is just tender, adding a little additional liquid if needed. Garnish with chopped parsley and lemon wedges. Let rest 5 minutes before serving. Serves 6.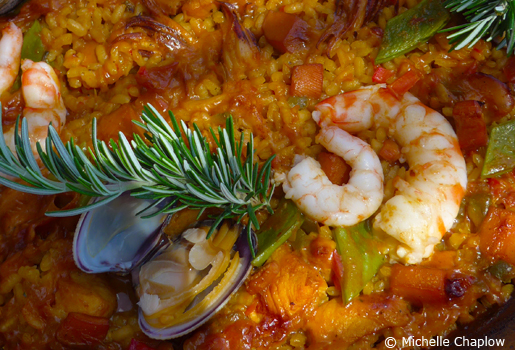 Seafood paella.