-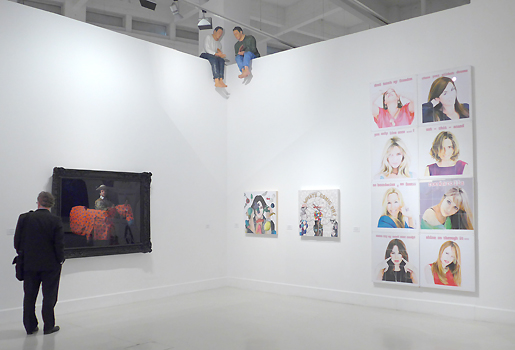 Contemporary art at the CAC Malaga.
While we are lucky to have sunshine most of the year round in Andalucia, paradise is never perfect. We need rain to feed our lakes, rivers, reservoirs and our precious crops of olives, grapes, almonds and many more besides. The rainiest months are November and February to April - so what can you do to entertain yourself and your family if the heavens open while you're on holiday in southern Spain? Apart from the obvious roofed shelter provided by ubiquitous, and often impressive, religious edifices, here are a few indoor ideas: 1.
Seville - Ole ole ole!
What better way to escape from inclement weather than with the passion and colour of flamenco? The Museo del Baile Flamenco, in the heart of Seville's old town, is very much a living celebration of one of Andalucia's most famous cultural forms. Learn about the music and dance in interactive exhibits, see paintings of flamenco artists, watch a live performance, or take a class.
More>
2.
Art and archaeology together in Malaga
Opened in late 2106, the new Museo de Malaga, in the old customs house, ups the city's already impressive museum offering yet another notch. With Malaga's fine arts and archaeology collections gathered together in one building, you can gaze upon 5th century BC Phoenician masks and paintings by Murillo, Velazquez and Goya. Allow plenty of hours to take in so many extraordinary historic objects – 15,000 in total, many unearthed in the city's streets.
More>
3.
Contemporary art in Malaga
A world-class contemporary art centre, the Centro de Arte Contemporaneo (CAC) in Malaga has featured during its 14 years works by internationally-renowned artists such as Ai Wei Wei, the Chapman Brothers, Anish Kapoor, Marc Quinn and Marina Abramovich. Art is a universal communicator, so this visit is great for those of us whose Spanish can't cope with linguistic challenges. Good café, too.
More>
4.
Benalmadena - A butterfly's wing
A top choice for families, the Mariposario (Butterfly Park) in Benaldamena has 1500 butterflies, as well reptiles, birds and small mammals. They live in a beautiful environment among tropical flowers and waterfalls, where you can also see different stages of reproduction, including caterpillars and chrysalis.
More>
5.
Driving force in Malaga
You're spoiled for choice for museums in Malaga, but one of our favourites is the Museo Automovilistico (Automobile Museum) in the old tobacco factory. This impressive car museum has many models of auto customised by artists; it also has an excellent collection of super-elegant hats, and painting and sculpture shows.
More>
6.
Cordoba's Jewish roots
Centuries ago, Cordoba had a large Jewish community. Learn about Sephardic (Spanish Jews) culture at the Casa Sepharad, including the main ceremonies celebrated, as well as dress, language and music.
More>
7.
Granada: Here comes the science…
Located just outside the city, Granada Science Park is full of interactive and educational exhibits, about technology, engineering, physics and geology. The Exploration Hall has hands-on fun for little ones, and there's also a Planetarium.
More>
8.
Granada: Captain Caveman
Since prehistoric times men have been sheltering in caves, so why not check out troglodyte life for yourself? You can stay in cave houses around Guadix, but if you're in Granada city, in the gypsy quarter of Sacromonte, you can visit the Museo de Sacromonte which explains all about these unusual dwellings.
Mora>
9.
Aracena: Ham hunting
If you're in the Huelva area, and you're a fan of
jamón ibérico
(Iberian cured ham) - and what carnivore isn't? - go to the Museo de Jamon, to see how this Spanish gastronomic essential is produced. Then visit the Cinco Jotas factory in Jabugo – this is one of best producers in Spain. The tour ends with a tasting and a chance to buy some premium-quality wafer-thin porcine delight to take home – a packet is more suitcase-friendly than whole leg!
More>
10
Silver screen in Seville
Seeing a movie may not seem like a typical holiday pastime, but if they're showing one you haven't had time to see, and it's raining,, then why not? Avenida 5 Cines cinema in Seville shows
version original
(non-dubbed, with Spanish subtitles) movies, many of which are English-language. With five screens, usually some showing low-budget art house offerings, they cater to most tastes. Many cinemas on the Costa de Sol also have VO films.
More>