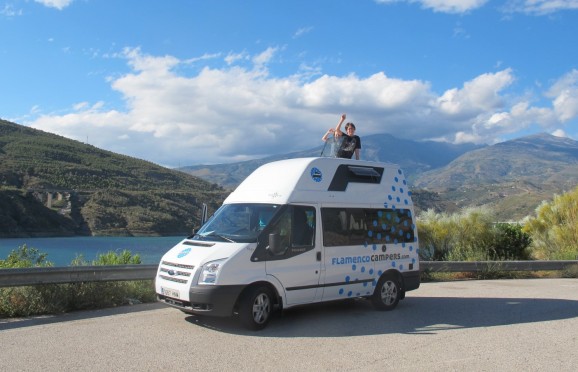 About to head up into the mountains - the van's roof window was an instant hit.
We all have our lists of places we want to visit – in Andalucia, top of mine for some years has been
the Alpujarras
, the mountainous region south of the Sierra Nevada in Granada and Almeria provinces. I read the
Gerald Brenan
book about living here in the 1920s and 30s,
South From Granada
, soon after arriving in Spain, as well as
Chris Stewart's
more recent
Driving Over Lemons
series, both of which describe the area and its inhabitants in invitingly lyrical but also intriguingly realistic terms. In addition,
an unusual cultural project
had piqued my curiosity, more of which later. However this remote area of small villages with centuries-old customs is located right over the other side of Andalucia from where I live - Seville. So I was delighted when I was offered a
campervan
for the weekend to go away in with my family. As my eight-year-old daughter, Lola, has long been fascinated by campervans, and has always yearned to sleep in a little house on wheels, it was a no-brainer to head off to the Alpujarras for a couple of nights on a sunny spring weekend.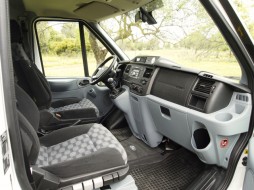 We picked up our pretty blue polka-dotted Ford campervan, named Pepa (like my mother-in-law, to my husband's delight; Lola van was otherwise engaged, to my daughter's disappointment), from
Flamenco Campers,
handily located near Malaga airport (they offer pick-ups). Gonzalo carefully explained how everything works – upstairs, the spacious top bed comes down; downstairs, the sofa folds into another double. If you want to eat inside, the driver's and passenger's seats turn 180 degrees to face the sofa seat, and a table pops up. He also lent us bedding, as well as folding table and chairs – after all, the best part of camping is eating alfresco.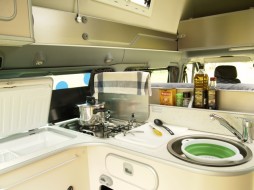 The compact kitchen, which comes complete with fridge, gas cooker and sink.
All this ingenious use of space (the outfitting company is Westfalia, world-leader in campervanning) will be familiar to seasoned caravanners, but was new and exciting for us. My daughter wasted no time in neatly arranging all the dried goods in their own kitchen cupboards, and placing toys and clothes in others. The food went in the fridge, and the inevitable tech gadgets were plugged into the numerous sockets – cigarette-lighter type while you're driving, and regular sockets when you're stationary and plugged into a power source. We refused the kind offer of a portable chemical toilet, preferring to take our chances with the campsites' facilities. Well-briefed and prepared, with our handy folder containing brochures of campsites around Andalucia, we set off. My husband drove as I have a shoulder injury which makes driving for long periods uncomfortable. He loved manoeuvring the van, which was steady and stable – and, best of all, highly economical in fuel consumption.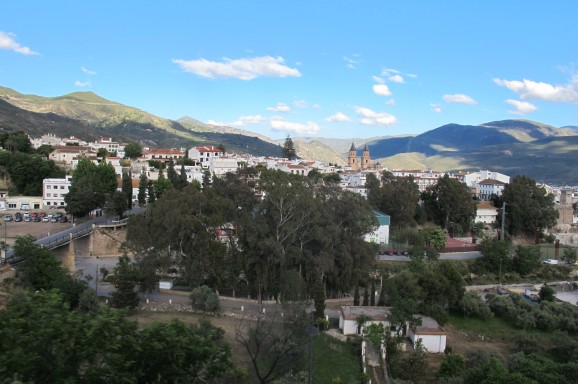 The town of Orgiva, the start of the Alpjuarras route.
It's an easy journey by motorway from Malaga along the A-7 to Motril, and then inland up the A-44 and climbing the A-346 to Orgiva. Once you're in the High Alpujarras, on the A-4132, the scenery is truly breathtaking, with soaring peaks and lush slopes. Indeed, the best part, for me, was the windy mountain roads themselves, which hugged the steep sides, snaking up and down in zig-zags that almost went back on themselves. We passed fields planted with row upon row of almond, orange and lemon trees, as well as vines. The meadows were ablaze with colour, spring flowers in blue, purple and yellow. And then the villages, splashes of white spread across the mountain sides.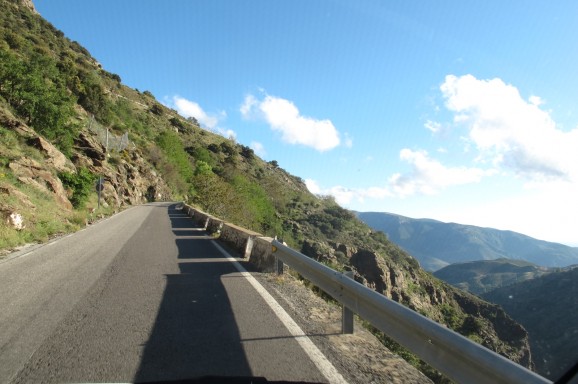 Typical Alpujarras mountain road, with stunning scenery. One of southern Spain's best drives!
As the passenger, I had fabulously scenic views through the high windscreen and open side window, and my camera worked overtime. Lots of handy dashboard pockets accommodated my notebook, maps, camera bag, sunglasses and mobile phone, so they were always to hand. The kids sat on the massive triple sofa-seat, with a big space between them for toys, games and snacks. A sliding window was handy for fresh air when queasiness struck my son Zac (though this was best tackled, unfortunately, by him stealing my beloved front seat and top photo spot).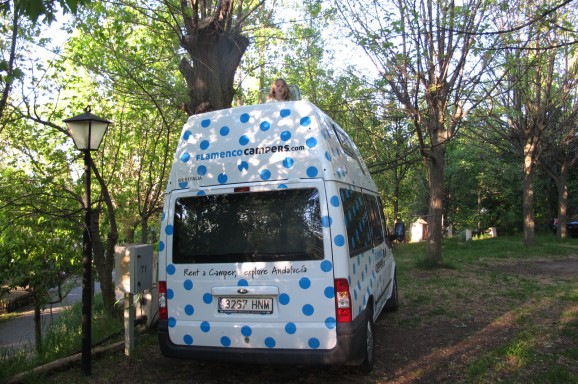 Parked up in the shady Alpujarran campsite of Balcon de Pitres.
Gonzalo had recommended a campsite called Balcon de Pitres, in the village of the same name, along the A-4132. As it was already quite late when we started climbing, we drove through famously pretty
Pampaneira
or
Bubion
, spotting brightly-coloured
jarapas
(traditional cotton rugs) but didn't stop – another trip beckons. The campsite was deliciously rural and peaceful, shaded by trees and blooming with flowers – even the bathroom block was delightful, covered with wisteria and roses.
Alpujarran scenery - dramatic and unspoilt.
That night a strong wind picked up, so we ate indoors at the campsite's restaurant - a big bonus being so close - with hearty fare and huge portions. Cosy inside our heated van, having brushed our teeth in the little sink, we listened to the gusts and fell asleep – kids upstairs, adults below. The next morning was calm, and I went exploring and found a little stream behind the site and soaked up the views. The Alpujarras is very well-served with natural springs, and you see fountains in every village, as well as by the roadside.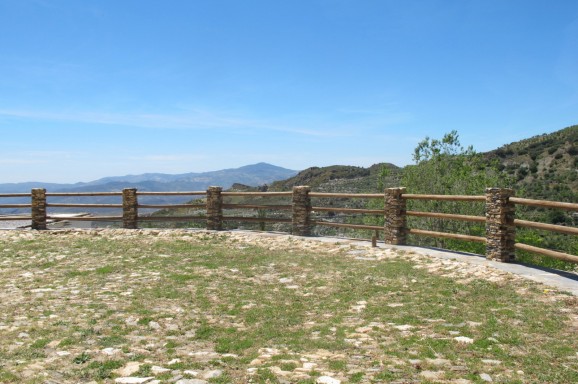 The stage of Un Teatro Entre Todos, the open-air theatre in Laroles.
One of my main reasons for wanting to visit the Alpujarras was an open-air theatre in the village of Laroles, in the extreme east of the area, so that's where we headed after breakfast. After winding up to
Trevelez
, the highest village and closest to the peak of 3,000-odd-metre Mulhacen, the scenery changed, becoming drier and less verdant, but no less stunning.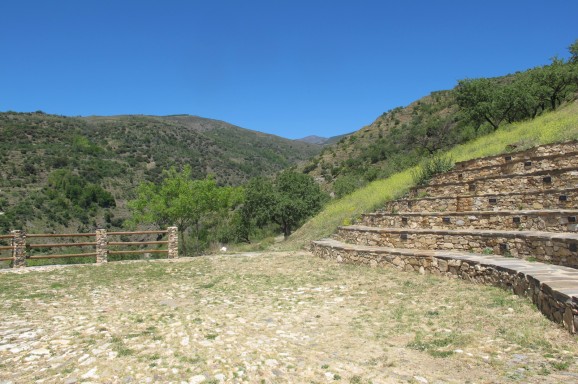 The seats of the theatre are hand-carved from local granite.
The theatre in Laroles,
Un Teatro Entre Todos
, is an award-winning community project spearheaded by a dynamic and creative Englishwoman, Anna Kemp, who fell in love with the area when working on a movie adaptation of the aforementioned Brenan novel, set in nearby Yegen. The theatre was built in 2014 and has run
a season of plays every summer since
2015, featuring top Spanish and international performers.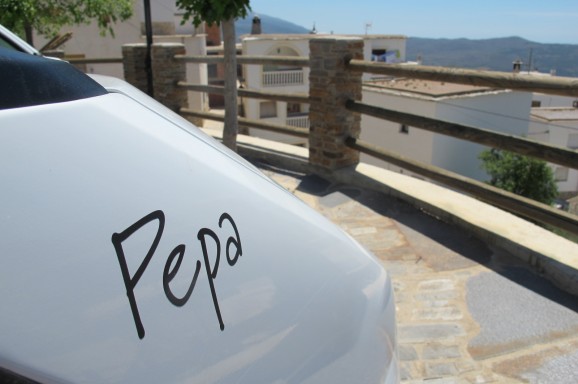 Pepa the campervan parked up in Laroles.
Inspired by the Minack in Cornwall, it is built around a traditional, circular threshing platform called an
era
– most villages had them. Seating rows have been built into the hillside, using local slate under the auspices of a stonemason. The setting is, of course, stunning, with almond and olive trees, and views for miles. After spending some time imagining how it would be at night, with actors on a lighted stage - we explored the village's steep streets. Having traversed the High Alpujarras in our van, we decided to head down to the
Costa Tropical.
Although much of this is taken up by plastic tents under which vegetables are grown, we found a good campsite in the seaside town of Castillo de Baños – being off-season, you can just turn up and pick your pitch. Ours was next to the sea, with only a fence and some bamboo separating us from the sand.
Cooling off at the campsite in Castillo de Baños on the Costa Tropical.
A nicely-designed pool, with rocks, slide and waterfall, was a lucky bonus. After dining on salad and a veggie fry-up (sausages and burgers) cooked in the bijou kitchen (two gas rings), we played card games and slept to the sound of the waves gently lapping on the beach. The bathroom block proved less impressive than Pitres, but was still passable.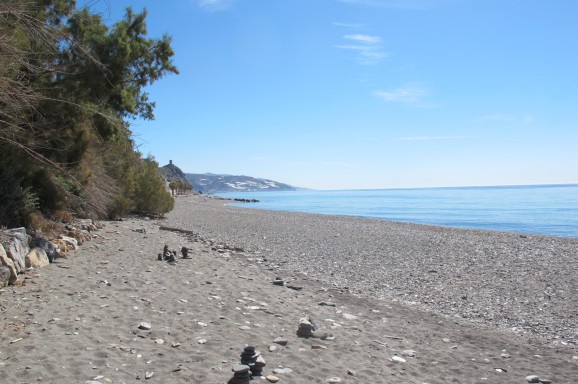 Beach at Castillo de Baños - grey sand but spotlessly clean.
The first rule of family holidays is that The Pool Must Be Used, so we waited for it to open, had a jumping, sliding and somersaulting session, and then set off along the coast towards Malaga, stopping to admire the clifftop views of Almuñecar, Salobreña and La Herradura. We were sad to bid goodbye to Pepa, and headed back home to Seville - but hopefully we'll see her, or one of her
compañeras
, again. Although personally I prefer to have a little more living space, as a thoroughly spoiled hotel reviewer, a short adventure of two or three nights is great fun - the kids would have happily carried on for a week! Fresh air, sea or mountain, meeting other campers and their dogs, and the feeling of flexibility and freedom make it an ideal way to travel around an incomparably scenic region of Andalucia.