After many years of prevarication, consultation and administrative wrangling, the
Royal Shipyards of Seville
, which date from Alfonso the Wise's reign in the 13th century, are finally going to be restored and converted into a cultural centre. The 25-million-euro project, presented by Fundacion La Caixa and Fundacion CajaSol, was approved by the Comision Provincial de Patrimonio Historico de Sevilla (Consejeria de Cultura) this week.
Back in 2008, the Junta granted a 75-year lease of the building to Fundacion La Caixa. Originally mooted as a Caixaforum cultural centre, which are renowned for their avant-garde architecture and high-quality exhibitions, the mudejar Atarazanas (shipyards) will now be funded as a Fundacion La Caixa centre, with the main Caixaforum transferred to the Torre Pelli, Seville's new, and only, skyscraper. The  178m-tower was initially built by CajaSol bank, which was taken over by La Caixa during the construction process.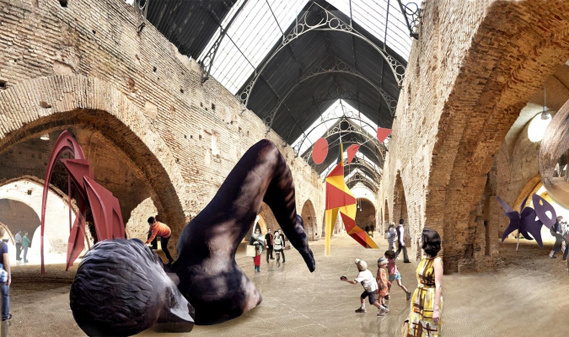 The project has been presented by Seville architect Guillermo Vazquez Consuegra, who had undertaken many commissions in the city: he designed the extension to
Fibes Exhibition Centre
; was responsible for the refurbishment of the
Palacio San Telmo
; and converted the
Pabellon de Navegacion
, which he also created for
Expo 1992
, into a museum. Centro Cultural Atarazanas will have an open ground floor, so that visitors can fully appreciate the medieval arches, half of whose columns' height are buried under the ground. The first floor, built by Carlos III as an artillery store at the end of the 19th century, will be an exhibition space. Located close to the
Cathedral
and
Alcazar
, between Avenida de la Constitucion and the riverside Paseo de Cristobal Colon, the refurbished Atarzanas will form an important element of the monumental area of Seville. The new cultural centre has been described as "
un centro cultural de divulgación científica, técnica, artística y cultural"
(a centre for scientific, technical, artistic and cultural dissemination). Here is a short video (in English) about La Caixa Foundation.
La Caixa Foundation