Andalucia isn't short of
ferias
(each town's annual party) and
fiestas
(others celebrations) - there are plenty
every month
throughout the year. Many of these have religious roots - Semana Santa, saint's days, and the numerous
romerias 
(pilgrimages). The biggest, and most important, pilgrimage of the year in Andalucia - and, arguably, in Spain - is
El Rocio
. It comes after Semana Santa and the Feria, and in a way is a combination of both: religious fervour, along with singing and dancing.
Hermandades
from all over Andalucia, especially Huelva, Cadiz and Sevilla provinces, make their way slowly, either on horseback, or in all types of carts, trailers or wagons pulled by horses, mules, oxen or a 4x4, to a town in
Doñana Park
called El Rocio, home to the shrine of a much-revered virgin, known locally as La Paloma Blanca.
The first part of the route passes through a town near where I live, Castilleja de la Cuesta, so yesterday we went to watch them start their three-day journey. The men
rocieros
(pilgrims taking part in El Rocio) wear broad-brimmed hats, scarves round their necks, and medallions for their
hermandad
. Some also carry long walking sticks, with bunches of herbs stuck in the end (such as
romero
, rosemary - no connection with
romeria
, sadly - how cool would that be?). Those riding horses wear cropped jackets and leather chaps, often beautifully embossed.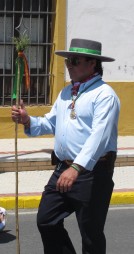 Women (
rocieras
) don their
flamenco dresses
, although in a looser style, since they're walking part of the day, not just dancing all night, as at the
feria
. On their feet, they wear leather cowboy boots for comfort, and many carry a small leather bag on a long strap across their bodies, or around their waists. The look is more
Little House on the Prairie
than
Carmen
.
Trailers are well-equipped with cold boxes full of beer tucked under the seat or strapped to the side, while some carry live chickens underneath - handy for an alfresco dinner camping in the wilds of Doñana (where wild boar and deer roam, but hunting is strictly prohibited). Each trailer and 4X4 has an identifying label with a number and the name of its hermandad.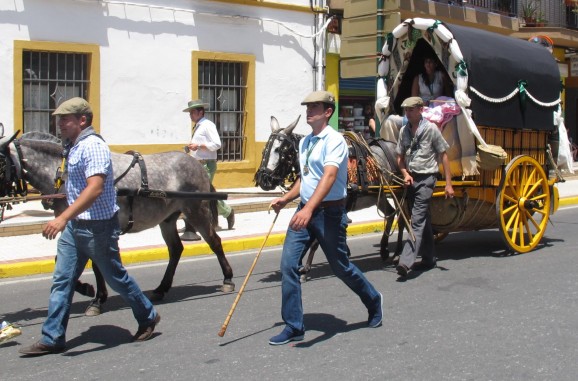 I've never been on El Rocio, but hope to one day (in a trailer, not on horseback!). In the meantime, I'm limited to being a spectator, and visiting the spectacularly-situated Wild West-style town itself at other times of the year (highly recommended; it's a real one-off). Next to the green wetlands, with their birds and wild horses, the sight of the dazzling white sanctuario (church) set against the azure Andalucian sky, is memorable.
Once arrived, each hermandad has its own house, complete with stables and chapel. The celebrations last long into the night, with dancing, singing and general rowdiness. One day, one day, I'll be there too...