Andalucia A Cultural History
The history of southern Spain is now portrayed as never before in author John Gill's latest book Andalucia A Cultural History. Gill is an established contributor to Conde Nast travel magazine and author of another favourite, the Thomas Cook Guide to Seville and Andalucía. He is well known for an intelligent and entertaining approach to the history and culture of the world's greatest destinations.

This latest book not only traces the origins of human civilisation in Andalucia and introduces us to the human face of the Phoenician, Greek, Roman and Muslim cultures that shaped the region over hundreds of years, but also explores present day Spain through the eyes of "post-modern novelists in Córdoba and Sevilla, guerrilla urban archaeologists in Torremolinos and Marbella, and underground lo-fi bands in Granada and Málaga".
 
For Gill, Andalucia is the sum of its cultures a "garden at the foot of Europe and a crossroads between Spain, Africa and the New World". This illustrated introduction to the "real Andalucia" will surprise and captivate you as a whole world around you comes alive with voices of the past and present describing the sum of their whole in the unison of one book.
 
Travel photographer Michelle Chaplow was commissioned to illustrate this excellent guide to Andalucia. Chaplow has lived and worked in Andalucia for 17 years and maintains an award-winning collection of photographs of Andalucia and the whole of Spain. Her work has appeared in numerous books (including National Geographic Travel Guide Books) and she has been published extensively in newspapers and magazines throughout Europe, the United States, Australia and China. Visit her website at www.michellechaplow.com
Andalucia.com caught up with John Gill to learn more about the story behind the book:
AC- What inspired you to write Andalucia A Cultural History?
 
JG- The idea of seeing a book about Andalucía that addressed contemporary as well as historical Andaluz culture, that didn´t elaborate the truth. I'd been thinking of writing a history of the Guadalquivir - which flows through most of Spanish history - but the publisher asked me to write a more general book about Andalucía (I'd already written a general guide to Andalucía with Michelle Chaplow ). The prospect was daunting - not least when I realised it would have to cover 1.8 million years of history, from prehistory to punk in Granada ! But the discipline of having to write a detailed chapter breakdown helped to give the book a structure, not least the points in history I had to cover, and the Oxford University Press, which publishes Signal Books, liked it. After that, having already travelled across most of Andalucía for Condé Nast Traveller magazine and others, it was mainly a question of going to places I hadn't visited, and reading a small mountain of history books in Spanish, if only to be able to blame Spanish historians if anyone criticized my sometimes controversial comments in the book!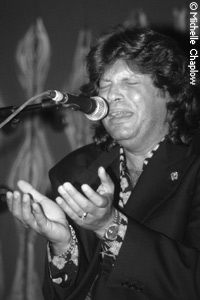 Flamenco icon, José Mercé.
AC- What was the most interesting research project you undertook to write this book?

JG- There are so many different things it is impossible to say; the Greek and Phoenician settlers; Tartessos, which some still claim could be Atlantis; the Romans and the fantastic ruins at Itálica outside Sevilla; San Isidoro of Sevilla and his 'Etymologiae' encyclopaedia of 630 CE, even though I'm an atheist; the peak of "la convivencia" (peaceful coexistence) at the caliphate of Córdoba, when Christians, Jews and Muslims lived together around flower-filled patios; the architecture of Madinat al-Zahra; the library at Córdoda; reading the Civil War poets; turning cartwheels to Enrique Morente and Lagartija Nicks' album 'Omega'... but most contemporaneously the Jerez-born Sevilla-based writer Juan Bonilla, who is the future of Andaluz, and perhaps Spanish, literature (check out his ' La Costa del Sol en la hora pop'...).
AC- In your opinion, how could a good knowledge of Andalucia change a foreigner's experience of living in this part of the world?
JG- Obviously, getting to know the Andaluces, their history, culture, language, landscape, customs, food, booze, plus fun trips on buses and trains (confirmed non-driver, even though I write travel books. There are too many cars on this planet...), but I unashamedly admit that part of the reason for writing the book was to show how cultures, races and civilizations learned how to live side by side in Andalucía, and that it ain't rocket science. Goddess knows, the world needs more of "la convivencia"...
AC- What was the highlight of your own personal experience of living and working from southern Spain and experiencing the culture first hand?
 
JG- I worked harder in Ronda than I ever did on Fleet Street, be it at the Mirror, Express or Sunday Times, usually on book and editing projects, sometimes until 4.30am and then falling asleep on my Apple Mac keyboard. I was lucky to fetch up in Ronda when there was a lively alternative culture, both Spanish and guiri - now sadly diminished - when there were bar-hopping DJs, concerts, veggie restaurants, movie clubs, and pals who wanted to go out dancing until dawn during the feria. The highlight, however, quite frankly, was the people, many of whom are charming. My book is dedicated to at least two I fell in love with - hola Luis! hola Alfonso!- but they get the joke...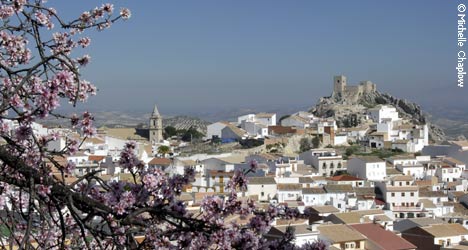 AC- How did writing Andalucia A Cultural History change your perspectives on the people of Andalucia?
 
JG- In my largely working class and elderly barrio in Ronda, and in my travels around Andalucía, I only encountered kindness and friendship from people who, and we often forget this, are still getting over a half century of tyranny and still stabilizing a young (barely thirty years old) democracy. I met a few monsters, but largely encountered a humanity and kindness that I rarely experienced in my forty years as a south-London-based son of Cockney parents - which was one of the primary reasons for moving to Andalucia! So, in a word, bless. As I say in the intro to the book, these people not only invented Spain , they invented Europe …