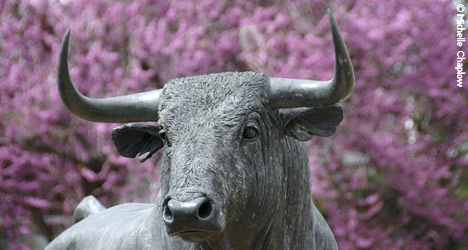 Cultural History
Andalucian History Comes to Life - Read about the book that literally brings Andalucian past and present to life.
Driving
Driving over Spaniards - Author Theresa O'Shea recounts the hilarious experiences involved in obtaining a Spanish driver's license – from scratch!
Education
University Life - Russel Seaman relates he experience as an Erasmus student at Malaga University.
Food
Jamon Jamon - Foreigners may rave about paella and gazpacho, but food-wise there's only one thing that Spaniards REALLY care about and that's jamón.
The Truth About Tapas - A short tale explaining the history of Tapas.
General
Cultural Differences between Andalucia and the UK Article by Rachel Burns, Liverpool University Student.

Domingueros - weekend picnics in the countryside and on the beach take on a special flavour in Andalucia.
New Mum in Seville - A new mother living in Seville shares her experience of Spanish health care.
Pregnant Life in Spain - Fiona Watson describes her personal journey from trendy Londoner to being a pregnant expat in Seville.
Spanish Surprises - Whether you're living in Spain or you're planning to move here, this is one list you won't want to miss. Following are ten sides of life in Andalucia that never fail to surprise those of us who come other places....
New Year's Resolutions - Find out what you should resolve to do this year!
Gypsies
Christmas of the Gypsies - A tale involving Gypsy Christmas and two equally picturesque, mute, sisters.
My Friends, the Gypsies - A first hand account of the life and stories of the 'Gitanos' (Gypsies) in Montefrio by Lawrence Bohme.
Marriage in Mallorca - A tale of weddings, traditions, gypsy friendship and a family trip to Mallorca.
Language
Don´t pass the tapas - An insight into the differences between the Spanish and the British culture.
Weddings - an A to Z guide to Spanish weddings by author Theresa O'Shea.
Music
Tunas - These are modern day minstrel groups made up of singing students who keep history alive.
Spanish Inventions
A Spaniard Invented the Mop? - Theresa O'Shea looks at the history of the mop as we know it today in Spain.
Stories
Eight stories about Andalucia - Lawrence Bohme tells us about his impressions of Andalucia.
Trivia
Trivia - find out how much you know about Andalucia.
Tourism
A few things about Granada - History, facts and curiosities about Granada.
Attitudes towards tourists in Andalucia by Rachael Burns, Liverpool University Student.
Lorca, poet of Granada - A poet is someone whose every word, written and spoken, is some form of poetry - for whom poetry is the everyday "common coin" of seeing things, an attitude from which versified poems sometimes arise.
The Mosque that is a Church - The history of the Mezquita, an Islamic mosque containing a Christian church, now Cordoba's cathedral.
What's in an olive? - A sea of bushy, low-lying, gnarled trees... those trees that produce the cholesterol-free green gold which all the world desires.
Work
Apocalypse in Puerto Lope - A first hand account of an encounter with the Spanish Police.
Flying with the Commissioner - An account of work, politics and a spectacular helicopter journey over Andalucía.