Restaurants in Duquesa
La Duquesa seems like a thousand miles away from the throng of the holiday resorts. It is relatively quiet during most of the year. The restaurants come alive in July and August.
The vast choice of eating options include French, Italian, Chinese, Indian, Thai and, of course, Spanish with its fresh, local fish. Here is a selection:
Reserve Online:
Macues
Macues has an extensive and varied menu. With more than 70 dishes, it goes from the most traditional gastronomy (gazpacho, onion soup ...) to the most international and modern cuisine (Mournay prawns, Chateubrian ...). The restaurant has a large heated terrace, a cozy interior lounge and dim lighting that provides a warm atmosphere and reflects the tranquility of the marina.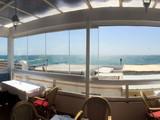 Delfines
The restaurant Delfines (Dolphins) is an establishment devoted to the delicacies of the sea. It is located in the town of Castillo de la Duquesa, facing the sea, and has been successfully running there for over two decades. It offers a wide range of fresh fish and seafood, including: prawns, crayfish, clams, lobsters, tuna, hake, cod and much more.
More Restaurants
Parapiros
Parapiros is an Italian restaurant which can be found just to the side of Puerto de la Duquesa. Dishes here range from appetizing starters, creamy risottos, fresh pastas, pizzas made in a wood oven, to the most delicious meats, fish and seafood, as well as sweet desserts and crepes.
Puerto de la Duquesa, 90 (Plaza Alta) 29692.
Telf.: +34 952 89 07 44
A Taste Of India Shazna
A Taste Of India Shazna is a restaurant that offers authentic Indian and Pakistani cuisine. Their homemade dishes are filled with aromas, flavors, textures and spices which combine to make a rich and varied menu that will satisfy even the most demanding palate.
Calle Delfí­n, Local 29 29692 Puerto de la Duquesa.
Telf.: +34 952 89 11 03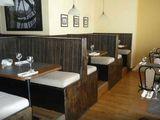 The Bistro Steakhouse
With its international and British cuisine, this bistro offers a wide variety of meats adapted to any palate. If you are a meat and grill lover, you have to visit The Bistro Steakhouse.
Calle Cristobal Morales, 29692, Puerto de la Duquesa (top level).
Telf.: +34 952 93 63 44
Destinations