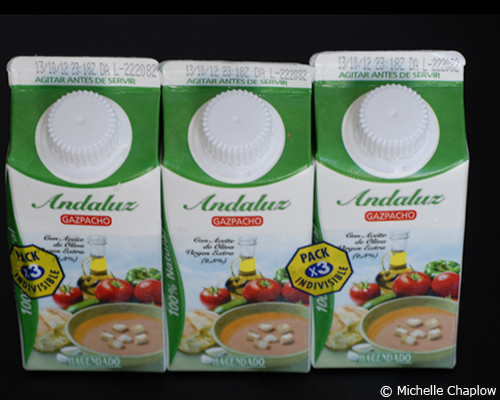 Gazpacho is a popular Andalucian summer dish
Eating in as a vegetarian in Spain
By Eloise Horsfield
If you are in Andalucia more permanently and have a kitchen to cook in, then keeping to your vegetarian diet will be much easier.
Supermarkets and Shops
Supermarkets such as Mercadona, Mas and Super Sol don't have a huge variety of wholefoods and veggie-friendly ingredients. However, most stores stock a good selection of grains, pulses and cheese as well as soya, almond and oat milk, which have become popular with health-conscious Spaniards keen to avoid lactose. Mercadona also sells a very good hummus in its chilled section.
In Carrefour and El Corte Ingles chilled food sections, you can get reasonably-priced tofu burgers, blocks of tofu and other fresh vegetarian products. If you are on or near the Costa del Sol, British supermarkets such as Iceland (Puerto Banus and Fuengirola) have Linda McCartney and Quorn frozen sausages and burgers, ideal for taking along to that meaty Spanish barbacoa (BBQ). Gibraltar, too, has a branch of the British supermarket Morrisons, which sells all the vegetarian-friendly products you would find in any store in mainland Britain. There is also a Holland & Barrett in Gibraltar; useful for those hard-to-find wholefoods.
At health food stores, you can find delights such as seitan and tempeh, organic produce, and animal-friendly beauty and household products (Carrefour and El Corte Ingles also have organic food, including fruit, vegetables and dairy, and eco-friendly cleaning and washing goods). All the main cities and towns in Andalucia have good health stores, as do smaller places with high expat populations such as Gaucin and Orgiva. Be warned though, prices may be higher than normal.
Finally, it is worth checking out Chinese supermarkets - they stock great selections of noodles as well as handy cooking sauces and pastes like miso, wasabi, sweet chilli and soy.
Markets
Markets are extremely common and very popular in Andalucia; both the weekly local mercadillo, and the permanent covered market (mercado). You are likely to find a more varied range of products such as polenta, a better selection of exotic spices for cooking international dishes and, as mentioned above, an impressive range of in-season fruit and vegetables.
Some towns and cities in southern Spain also have organic and/or farmer's markets every month, often at a weekend – ask around or look for notices in health food or gourmet shops.
Want more? Read on, for more tips about eating out as a vegetarian and buying fresh produce.