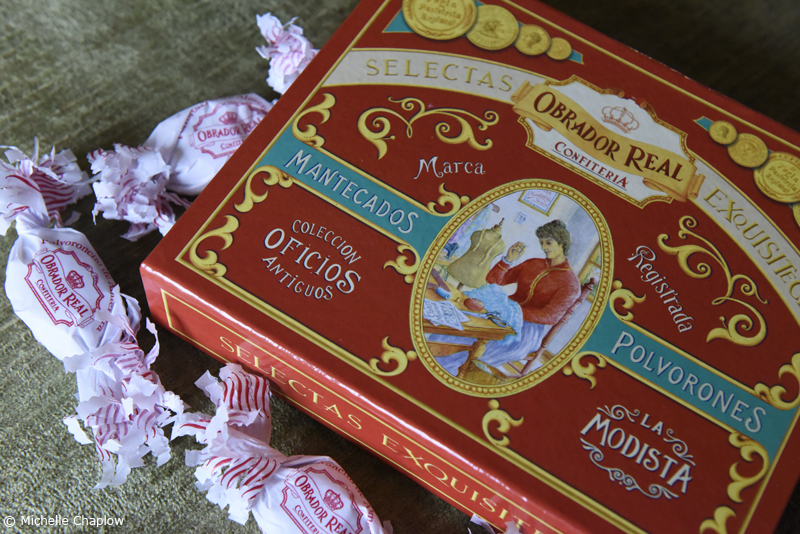 Traditional Polverones from Estepa, Andalucia. This beautiful box contains sold individually wrapped polverones in thin delicate tissue paper © Michelle Chaplow ( click to enlarge image).


'Polvorones' - anise flavoured sweets/small biscuits
2 tablespoons of icing sugar
2 cups of flour
1 egg yolk
½ teaspoon of ground anise seeds
1 teaspoon of lemon juice
2 teaspoons of brandy
1 teaspoon of grated lemon zest
½ teaspoon cinnamon
1 pinch of salt
½ pound of unsalted softened butter
Mix together one tablespoon of the icing sugar, the egg yolk, the lemon juice and the brandy. Mix well to make a smooth blend. Then mix the flour, ground anise seeds, the lemon zest, the cinnamon and the salt.
Cream the butter until it is smooth and add the egg yolk mixture. Then beat in half the flour and using a wooden spoon, gradually add in the remaining flour, mixing continuously to keep the mix smooth.
Preheat the over to 300oF or 150oC . Roll the mix out thin (approximately ¼ inch thick) and even onto a floured surface. By using a small biscuit shape-cutter (approximately 3 inches), cut out the mix. This should give you around 10 - 12 individual polvorones. Place in the oven on an un-greased baking tin for around 30 minutes or until the polvorones are lightly toasted, but firm to the touch. Allow them to cool for a couple of minutes. Transfer them on to a sheet of waxed cooking paper with some of the remaining icing sugar on it and then sprinkle the rest of the icing sugar on the top.