Course Info
• Holes - 18
• Par - 72
• Clubs hire - Yes
• Buggy hire - Yes
• Hand Cart hire - Yes
• Powakaddy hire - Yes
• Restaurant - Yes
• Bar - Yes
• Map
• GPS N - 36.29389
• GPS W - -5.32111
La Reserva Golf Course
This modern course meandering through two picturesque valleys was opened in 2004, and since then has become recognised as one of the area's most prestigious golf clubs. It perfectly complements other top clubs in Sotogrande, including Valderrama, and offers golfers magnificent views all the way down to the Mediterranean Sea.
The course is 6,700 metres long, with expansive and wide fairways and greens. Five driving tees are available on each hole, and the course is set up with several water and bunker challenges.
The NH Collection Open (an event co-sanctioned by both the European and European Challenge Tours) was held at La Reserva de Sotogrande in April 2014.
Designed by leading international golf course architect Cabell B. Robinson, who was originally mentored by Robert Trent Jones (creator of Royal Sotogrande) and has also been responsible for such other gems as the nearby Finca Cortesín and Royal Palm in Marrakesh, La Reserva de Sotogrande is located in a majestic setting overlloking the sea, Andalucian hills and Straits of Gibraltar.
The original clubhouse was built in 2003 and was designed to incorporate key architectural motifs that blended Andalucian and historic Moorish influences such as horseshoe arched windows, internal courtyards and vaulted beamed ceilings.  In 2016 La Reserva clubhouse and its L'Olive restaurant were refurbished with the creation of additional amenities including tennis club courts and children's club. The Beach at la Reserva Club opened in July 2018 as an inland beach club with lagoon. A wellness spa was projected.
La Reserva club has also welcomed veteran Spanish golf star Manuel Piñero to the team, to develop new aspects of training and play for its international members.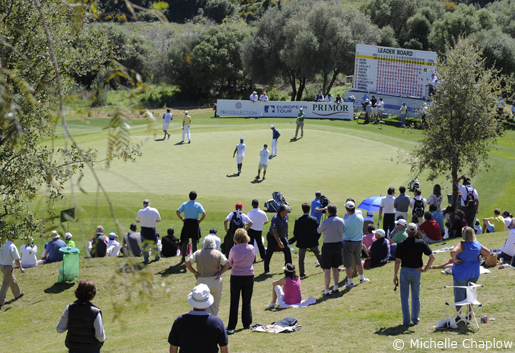 Sun-drenched 18 hole course at La Reserva de Sotogrande.
La Reserva Golf Course design
American architect Cabell Robinson talks about the opening of his latest design - La Reserva de Sotogrande in 2003.
"When I first arrived in Malaga, more than 30 years ago, 'Sotogrande' was already in play and the talk of many golf enthusiasts around Europe. Not only was it the first course in Europe designed by the famous American Robert Trent Jones, but it was also the first course here to demonstrate the attributes of target golf, a philosophy of design, which, with few exceptions, still dominates course architecture today. Sotogrande was also the first European course to boast an automatic tee-to-green irrigation system. This assured good playing conditions-and optimal appearance -all year round. Technically speaking, it made target golf possible in a semi arid climate.
A few years later we designed a second course at Sotogrande, which at the time was known as Las Aves and now Valderrama. The point of these brief historical remarks is that, from the outset, the principal driving force behind Sotogrande and its development into one of Spain's- and Europe's- most prestigious resort communities has been its golf courses. I firmly believe that this late addition to the stable- La Reserva -will continue, and strengthen, this trend.
The new course is situated in two valleys, which join in the form of the letter "Y". Parts of these steep-sided valleys were quite deep, so it was deemed essential to fill them to an elevation which allowed for the creation of golf holes which would be both playable and maintainable. In some areas this required increasing the area originally allocated for the course. Although such changes are generally anathema to developers, Sotogrande readily acceded, recognizing the ultimate importance of a quality golf course.
The golf course at La Reserva has a masculinity about it in that it is big and bold. The shaping and features are large scale yet soft and harmonious. Nothing jumps out to jar your senses when viewing the course from any angle. Rather one has the feeling of a course quietly at repose with its surrounding landscape.
From the tips, the course is quite long, measuring just over 6700 meters. Such an overall length was desirable in order for Sotogrande to have the option of hosting major international championships in the future. More important than the "Darth Vader" lengths of each hole is the playability of the course for ordinary mortals. For these reasons we have created two sets of men's tees as well as two sets of ladies' tees. The resulting course lengths from the different tee markers should enable all classes of golfers to enjoy their round.
A wall-to-wall computerized irrigation system provides water to the 419 Bermuda grass fairways. I am a firm believer that normal players should not stand on a tee fearful that a slightly miss-hit drive will lead to disaster. The fairways of La Reserva are therefore amply wide. It should be noted, however, that the correct positioning of one's drive will invariably provide advantages vis-à-vis the following approach shot. Knowing these preferred spots -and being able to reach them- will provide the challenge for the low handicapper.
Water hazards are a feature of the course, but given the possibilities which existed, the use of water has been limited, as I believe it is frequently overused in modern courses. At La Reserva water is found on only 5 holes: two par 3s, two par 4s and one par 5. In only one instance it is a frontal hazard requiring a forced carry over a drainage channel.
On the remaining holes it is used as a lateral hazard where it defends certain pin placements from direct attacks while allowing more conservative approaches, which take the hazard out of play.
Greens are really the "heart" of a course and together with the basic routing of the holes they are the fundamental elements of a great golf course. Technically speaking, the greens have been built to true USGA standards - a rarity in Spain. More importantly, from a design standpoint, they - and the rest of the course as well - were sculpted by a "master shaper" from the UK, Tom Lamb. The putting surfaces are relatively large in size to provide bigger targets for the average player. The thrill of reaching a green in regulation is often more memorable than the three putt which sometimes ensues. Large surfaces also allow for more movement and La Reserva's greens are subtly contoured to create a variety of pin positions.
For me personally it has been a pleasure and a privilege to follow in the footsteps of Robert Trent Jones, my employer of 20 years, in the design of the La Reserva course. Sotogrande, S.A. has provided me with the ways and means to realize a course on a par with those which preceded it. I would like to think that Mr. Jones would be proud of his student's efforts, and I am confident that La Reserva, along with Mr. Jones' earlier designs, will be considered one of Europe's finest courses.
Address: Avda. de La Reserva, s/n. 11310 Sotogrande, San Roque, Cádiz.
Directions: from both Marbella and Algeciras turn off at km. 133 and take the 130 exit marked Sotogrande-Guadiaro-Castellar.
Destinations