Manuel Benitez "El Cordobes" bullfighter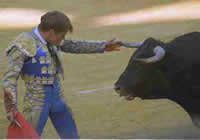 El Cordobes
El Cordobes was one of the most popular Matadors on the circuit currently. He claims to be illegitimate son of the great "El Cordobes" matador of recent history.
The father and son, met publically for the first time in Malaga in 2023.
El Cordobes (jr) is also a showman and loves to play to the audience.
On one occasion, El Cordobes leaped over the barrier during a fight to greet Jesus Gil the Mayor of Marbella; much to the crowds delight.