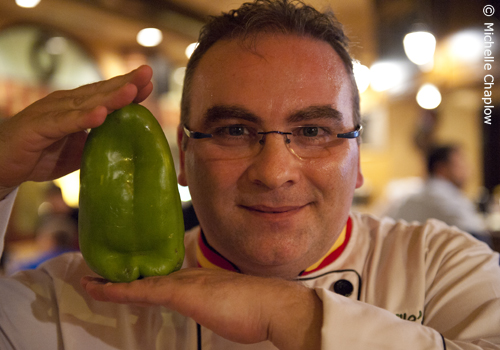 Spanish Chef Mariano Andres Puerta.
Andalucia.com spoke to Mariano Andres, the Asturian-born chef of Seville´s in Dubai, about the Spanish restaurant and tapas bar's enduring success in a progressive, cosmopolitan city where establishments constantly open and close, faced with stiff competition from new trends. Mariano opened Seville's back in 2001, and has been its chef and manager for more than half of its 12 years, as well as managing nine other restaurants in the Wafi Pyramids Complex. That's a long time in one restaurant, for someone who has worked in New York, Miami, Washington, Amsterdam, Paris, London and the Seychelles. We wanted to find out why Seville´s stole his heart.
A.C. - Why did you decide to name the restaurant ' Seville´s' as opposed to another Spanish city?
Mariano- WellI talked to my local Emirati and Arab customers and friends and they wanted a name that was linked to the Arab world. Of course Andalucia has a very close connection to the Arab World, so I asked them to choose which city they knew best from Cordoba, Granada and Sevilla and they said Sevilla. Then I talked to my English customers about the name and they all found it hard to pronounce Sevilla correctly, and kept saying Seville, so from that 'Seville´s' was born.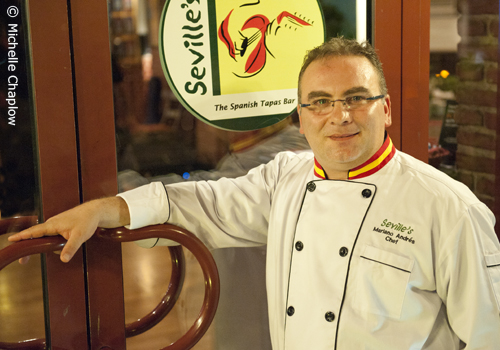 Seville's restaurant Dubai.
A.C.- What kind of Andalucian specialities are on offer in the restaurant?
Mariano- Gazpacho is very popular and we also have sopa de ajo blanco. In April we have Flamenco Week where we have a Flamenco band with music and dancing and special dishes. This week is the busiest of the year and always lots of fun. As I am form Asturias, I have Asturian chorizo on the menu too, of course! 
A.C.- Do lots of Spanish residents and tourists visit the restaurant?
Mariano- Yes there are around 10,000 Spanish residents here in Dubai now, but when I came here in 2001, I was number 60! There are also around 5,000 Spanish tourists coming through Dubai and as we were the first Spanish restaurant in Dubai, we have a good reputation with the Spanish as well as other nationalities. Since a Bollywood film was shot on location in Spain recently, we have also seen a large number of visitors from India coming to the restaurant too!
Spanish gastro delights from Seville's Dubai.
A.C- Seville´s has been popular for over twelve years- what is the secret to its success?
Mariano- The secret is me- Mariano! I opened Seville´s and now I manage ten restaurants here, I work hard and it is all about my passion for this work and this life. I love this job and am totally committed to it. Even if it is my day off, I will come in and cook and entertain my regular customers who call and say there are here in Dubai or in the restaurant. It is all about giving the best customer service. I have worked in every aspect of the restaurant trade from bartender, to chef, to manager, and I understand the whole business from top to bottom.
A.C. -Tell us which is your favourite place in Andalucia and your favourite restaurant?
Mariano- My favourite part of Andalucia is Zahara las Atunes. I love the strong winds and the movement of the waves in the sea. The beach is amazing and of course the tuna is delicious. My favourite restaurant has to be Dani Garcia's Calima.
A.C. Any messages for our readers?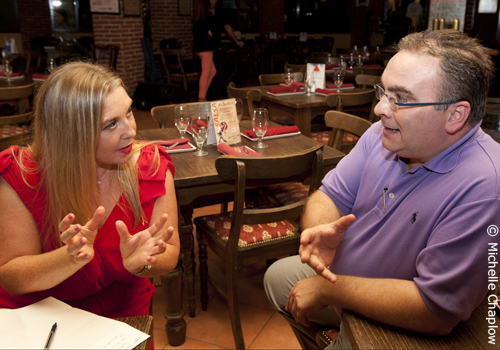 Any messages for our readers? asked Catherine
Mariano- Yes print this page, bring it along to my restaurant and I will give you a 25% discount!
A.C. So there you have it- a great reason to visit Seville´s in Dubai.