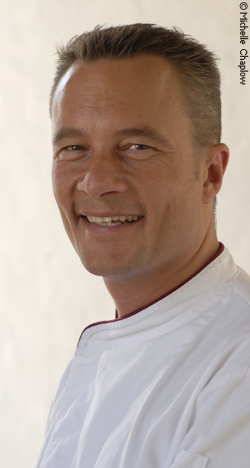 Kapser Nielsen based in Andalucia
Interview: Kasper Nielsen
Danish born Kasper Nielsen is the award winning chef and co-owner of Roca Tranquila Restaurant in Fuengirola. From 2003 to 2007 he was a member of the All Danish Culinary Team that won the Olympic bronze, silver and gold medals in several world cups.
Chef Nielsen has won several prizes on his own as well, including the "Best Fish Courses in Nordic Countries" in 2005 and 2007. He has also co-authored several excellent recipe books. 
Kasper has been living on the Costa del Sol for several years and is passionate about Spanish cooking. From his state-of-the-art kitchen at Roca Tranquila he adds his personal and innovative touch to traditional Mediterranean cuisine.
Recently Andalucia.com spoke with Kaspar about his passion for Spain and Spanish cuisine.
Interview with Kaspar Nielsen, International Chef in Andalucia
AC: Why did you choose to relocate to Andalucia?
KN:  I wanted to try something new and different, and when I was offered a job in Roca Tranquila in 2004, I said, "Why not?"
AC:  What flavours most represent Andalucia to you?
KN:  Definitely the flavour of a good olive oil. The region Andalucía is one of the biggest olive oil producers in the world. 
AC:  Which fresh local ingredients most inspire you, how so?
KN:  I don't have a favourite local ingredient, it changes during the year. In the summer there is nothing I like better than sitting at the beach eating  "boquerones al limón" (deep fried with no bones) with a glass of cold white wine, or eating a good cold gazpacho tomato soup. There are many great Andalucian products like the jamón serrano, manchego-style from Ronda and baby lamb from the mountains of Malaga. And then there's the shellfish, the tuna from Cadiz, the fresh fruit, the caviar from Río Frío, and again the olive oil and the olives.
AC:  Which traditional Andalucian dish would you recommend the rest of the world try?
KN:  A surprisingly good local dish is the Ajo Blanco, a cold almond/garlic soup. It's very simple, but its just wonderful. In the restaurant we serve it with a sugarless almond ice cream.  
AC:  What's your favourite item on the menu at Roca Tranquila Restaurant?
KN:  At the moment my favourite is a fish soup with basil, ginger, saffron and salmon. I like it because it's a good combination, the fresh soup and the herbs go perfectly with the baked salmon. Mmmm.
And now you are invited to click through to recipes for three amazing creations compliments of Kaspar Nielsen and Roca Tranquila Restaurant.